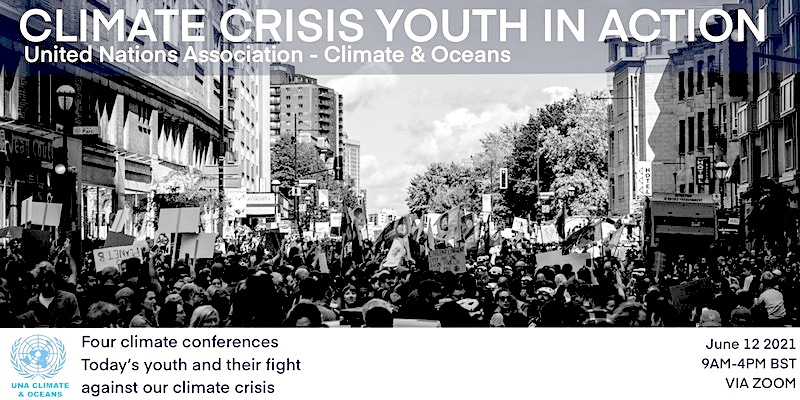 UNA OCEANS & CLIMATE - Is an organization founded in the UK in 2020, by Gonzalo Alvarez, a marine biologist and conservationist - and ardent equal rights advocate - who lives on the south coast of England. Since inception and in a very short time, the group has grown to attract members from around the world, to give them support and a voice that needs to be heard.
On the 12th of June 2021, an international group of concerned young people staged an impressive event, where speakers from around the globe spoke about the issues that matter, convincingly and knowledgeably.
In the run-up to COP-26, the UNA Climate and Oceans Youth Council has organised an exciting youth event addressing some of the key issues facing our planet today.

During the event, you will hear from expert speakers and those impacted by climate issues directly, covering a range of topics.

Students and young professionals from the UNA's Youth Council will be introducing speakers, leading panel discussions, and asking your questions. The event will also feature inspiring displays of artwork, poetry and music in between the speakers.
SCHEDULE OF EVENTS

(All times in BST London, remember to convert for your timezone)

9:00am - The event opens! Hosted by UNA Youth Council Members (Henry Bushell UK), Jemma Sargeant (UK), Emma Fingerle (Canada), Delicia M Wanyika (Tanzania), Lara Hauge (UK)
9:20am - Our Food & Agriculture conference begins with a panel discussion from Dr Divya Sharma, Niamh Kelly and Russ Carrington (United Kingdom)
10:05am - Q&A session with the audience
10:25am- A short break 10:50am - Photography from Tamara Lawrence (United Kingdom)
11:20am - The Oceans & Biodiversity panel featuring Delaney Reynolds (speaking from Miami, USA), Diva Amon and Love the Oceans will begin
12:05pm - Q&A session with the audience
12:20pm - A short break
12:45pm - University of Pretoria choir performance (Introduced by Karl Birkholtz - UNA Youth Ambassador, Sotuh Africa)
1:00pm - Our third conference covering Environmental Justice begins with discussion from Erika Pires Ramos, Sohayla Eldeeb, Camryn Banks and Nahuala Indómita
1:45pm - Q&A session with the audience
2:00pm - Art exhibition from Nahuala Indómita (Mexico)
2:20pm - A short break
2:45pm - The final panel discussion of the day begins, with Extreme E, Cascade, Mock COP and the Youth & Industry Energy Summit discussing their alternative methods of climate action
3:30pm - Q&A session with the audience
4:00 pm End of Event

"Working together you can help to change the world."