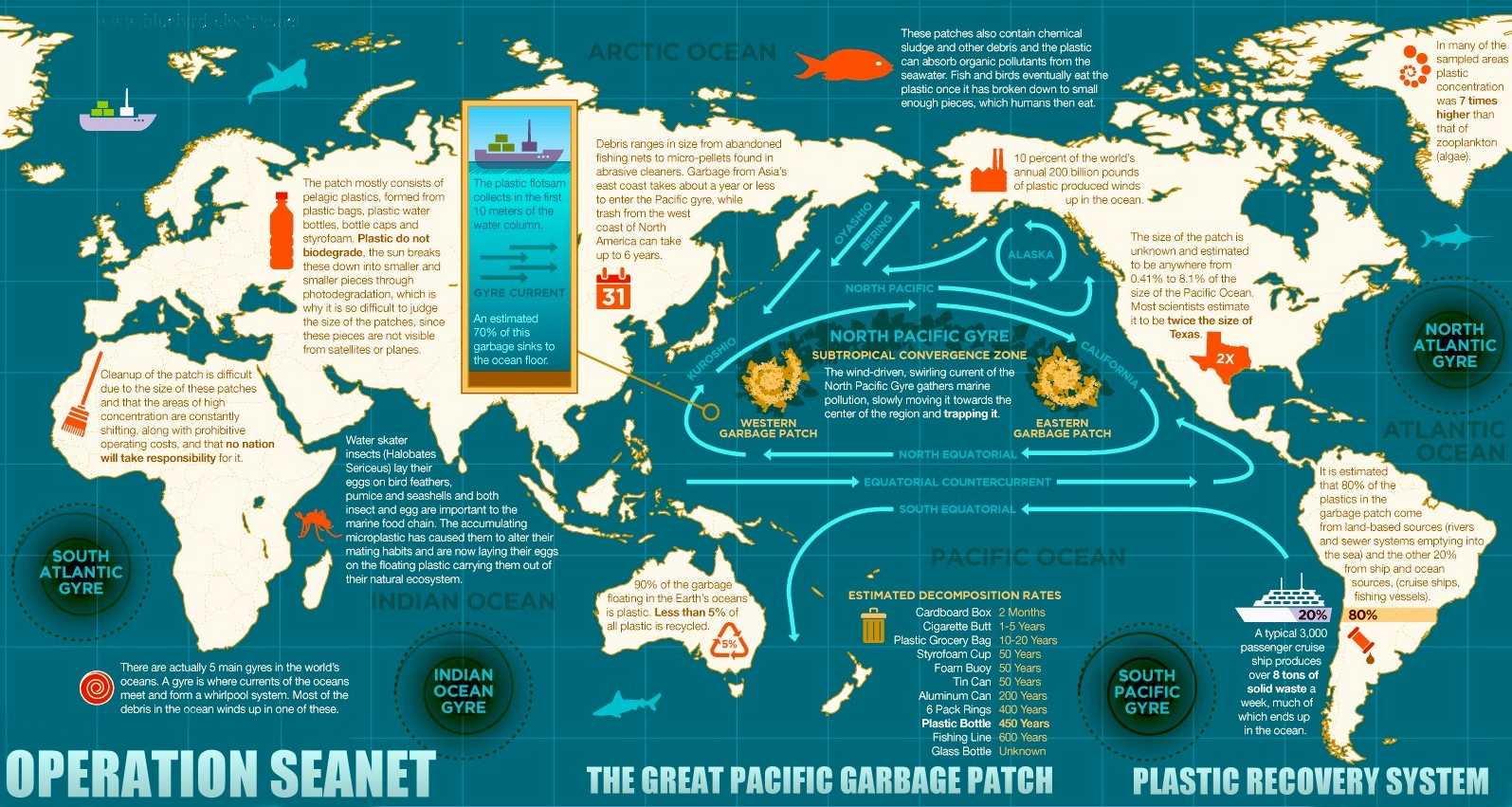 There are 5 swirling ocean garbage patches called gyres. Garbage patches generally accumulate far from any country's coastline, and it is nearly impossible to track the origin of marine debris. The tiny plastic particles that make up most of the patches are also very difficult and expensive to detect and remove.
6. Arctic Ocean
BUT WHAT TYPES OF PLASTIC & HOW MUCH FLOATS IN THE GREAT PACIFIC GARBAGE PATCH?
Characteristics of the debris in the Great Pacific Garbage Patch, such as plastic type and age, prove that plastic has the capacity to persist in this region.

Plastic in the patch has also been measured since the 1970's and the calculations from subsequent years show that microplastic mass concentration is increasing exponentially – proving that the input of plastic in the patch is greater than the output. Unless sources are mitigated, this number will continue to rise.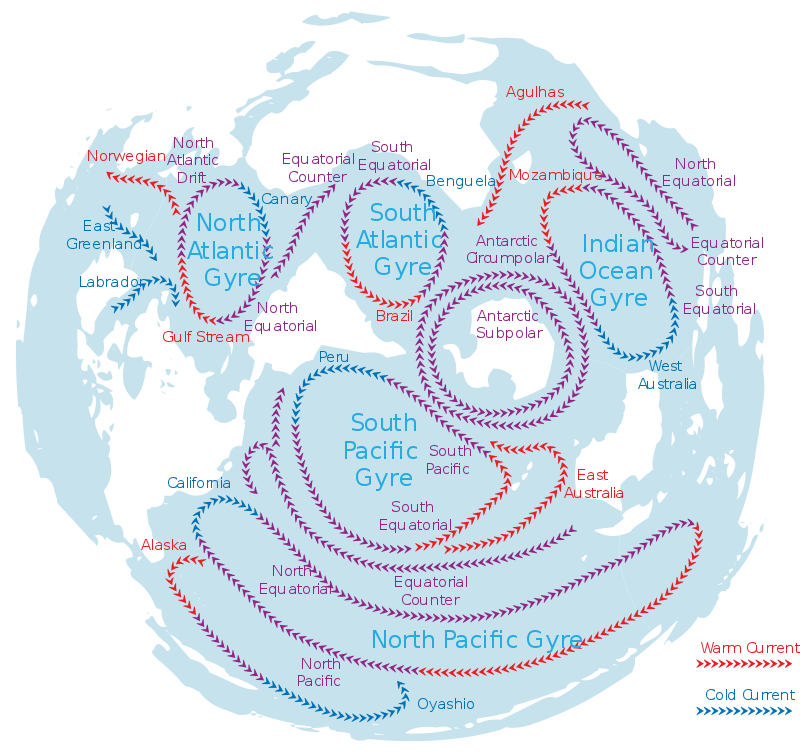 The vast majority of plastics retrieved by the Ocean Cleanup Project were made of rigid or hard polyethylene (PE) or polypropylene (PP), or derelict fishing gear (nets and ropes particularly). Ranging in size from small fragments to larger objects and meter-sized fishing nets.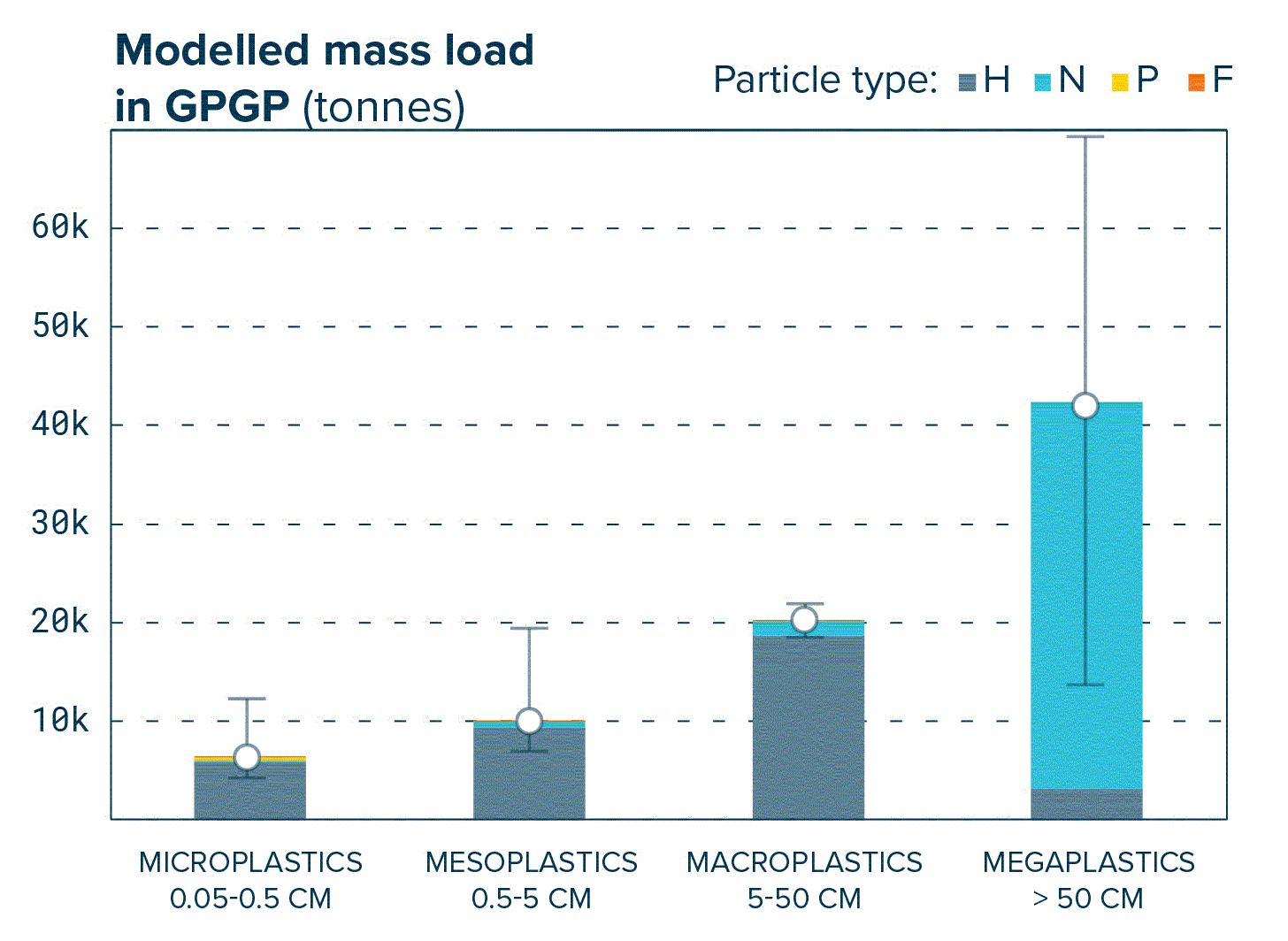 SIZE CLASSES

Plastic within the patch was categorized into four size classes:
– Microplastics (0.05 – 0.5 cm)
– Mesoplastics (0.5 – 5 cm)
– Macroplastics (5 – 50 cm)
– Megaplastics (anything above 50 cm)

When accounting for the total mass, 92% of the debris found in the patch consists of objects larger than 0.5 cm, and three-quarters of the total mass is made of macro- and mega plastic.
However, in terms of object count, 94% of the total is represented by microplastics. 46% of the total mass is made of fishing nets.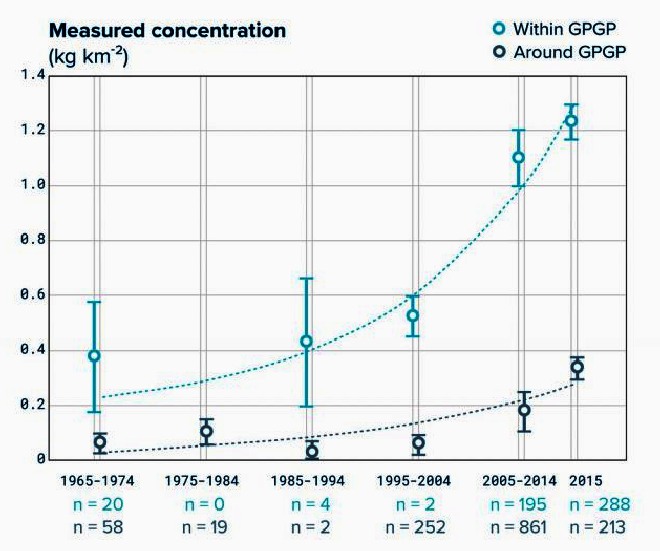 CATEGORIZATION TYPES

Once the plastics were collected, a team of volunteers classified the plastic into:
– Type F: Fragments made of foamed materials
– Type H: Hard plastic, plastic sheet or film;
– Type N: Plastic lines, ropes, and fishing nets;
– Type P: Pre-production plastics (cylinders, spheres or disks);

These plastic types were then screened for clues on age and origin. This was performed by examining each object for dates, languages, trademarks, symbols or 'made in' statements.

Because the plastics have been shown to persist in this region, they will likely break down into smaller plastics while floating in the GPGP.

This deterioration into microplastics is usually the result of sun exposure, waves, marine life, and temperature changes. Microplastics have been discovered floating within the water surface layers, but also in the water column or as far down as the ocean floor.

Once they become this small, microplastics are very difficult to remove and are often mistaken for food by marine animals.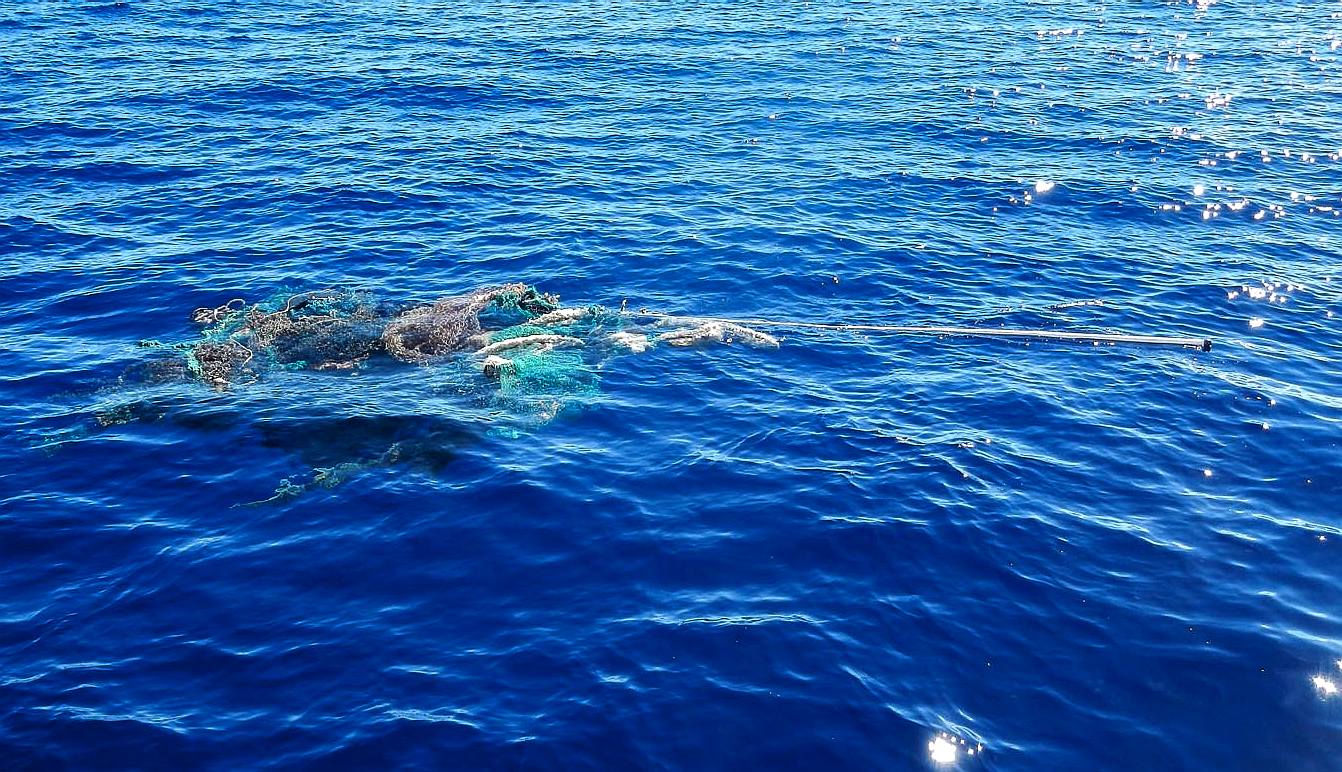 LINKS & REFERENCES
https://www.worldatlas.com/articles/what-is-the-great-pacific-garbage-patch.html