THE GREAT BARRIER REEF
PLEASE USE OUR A-Z INDEX TO NAVIGATE THIS SITE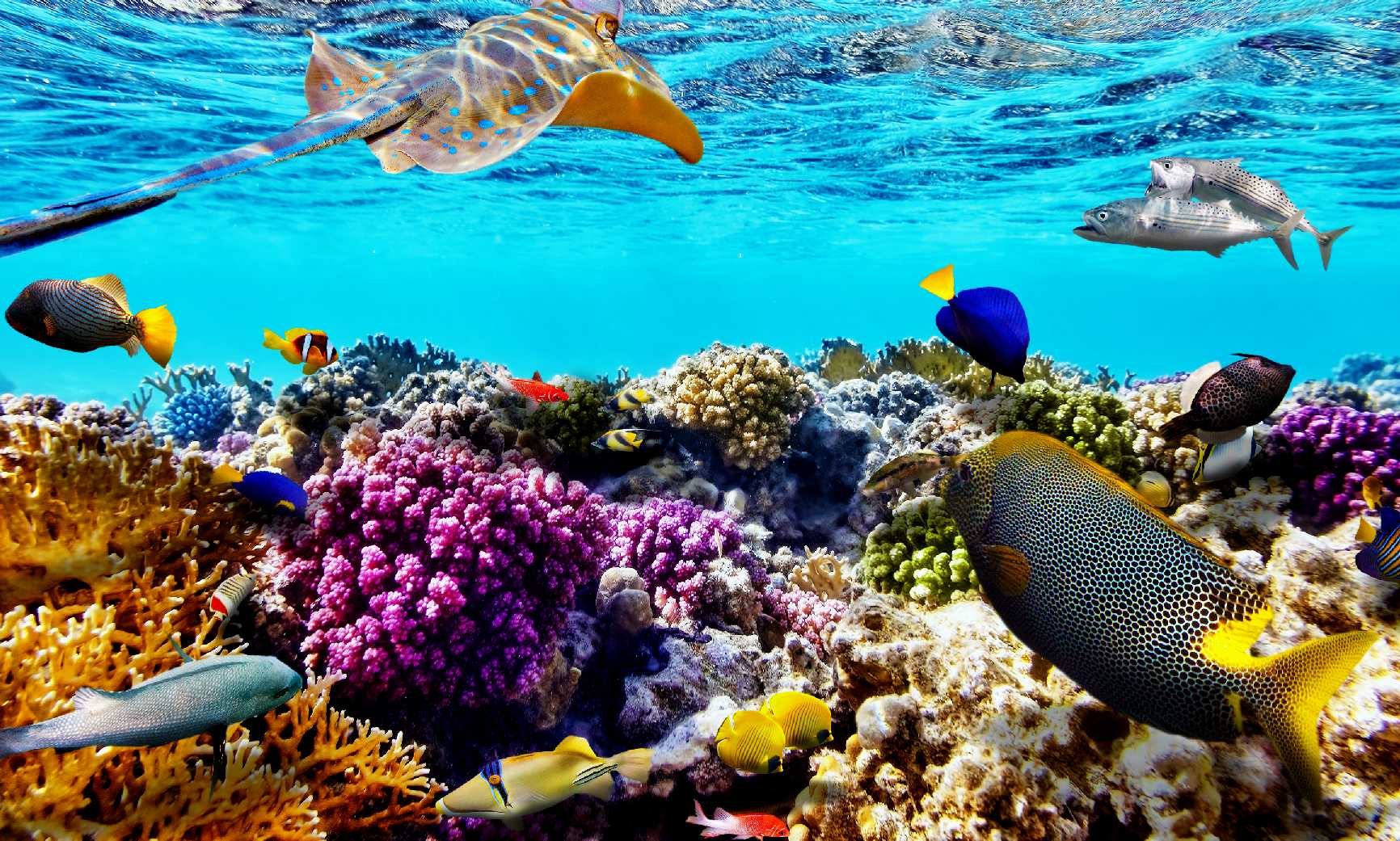 LARGEST REEF IN THE WORLD - The Great Barrier Reef is the world's largest coral reef system composed of over 2,900 individual reefs and 900 islands stretching for over 2,300 kilometres (1,400 mi) over an area of approximately 344,400 square kilometres (133,000 sq mi). The reef is located in the Coral Sea, off the coast of Queensland, Australia. The Great Barrier Reef can be seen from outer space and is the world's biggest single structure made by living organisms. This reef structure is composed of and built by billions of tiny organisms, known as coral polyps. It supports a wide diversity of life and was selected as a World Heritage Site in 1981.
The Great Barrier Reef is the largest coral reef in the world. It is home to at least 400 individual species of coral and thousands of different species of fish, mollusks, sea snakes, sea turtles, whales, dolphins, birds and more. As with the other coral reefs of the world, this incredible ecological hotspot is under threat.

A heat wave in 2016 caused a large percentage of the corals in the Great Barrier Reef to undergo severe bleaching and death. A 2018 study in the journal Nature Communications found that in just the northern third of the reef, over 60 percent of the shallow-water corals (those below 49 feet, or 15 meters) experienced some degree of bleaching, and 30 percent of the coral died. The study also found that even in the deeper, less-explored areas of the reef (down to about 131 feet or 40 m), nearly 40 percent of the corals had at least partial bleaching.

Healthy reefs lead to healthy oceans, and healthy oceans are vital to all life on Earth. The destruction facing not only the Great Barrier Reef, but also every reef around the world, can lead to the extinction of thousands of species of marine life. In turn, coastlines currently protected by reefs would more readily flood during storms, some islands and low-lying countries would vanish under the water, and the $30 billion industry that coral reefs provide could collapse.

The Australian government has put forth a long-term plan to sustain the Great Barrier Reef. The plan outlines efforts to greatly reduce and eventually eliminate dumping materials and chemicals, reduce fishing and poaching, and monitor the water quality of run-off directed toward reef.

There are also many attempts to rebuild the reef. Scientists are working to breed stronger species of coral that are less susceptible to the warmer waters and grow at an accelerated rate, reported the New York Times. They grow various coral species in the lab and place them in experimental environments designed to reflect the predicted temperature and acidity of the ocean decades from now.

Another group of coral reef ecologists are experimenting with growing corals on steel frames placed over the damaged parts of a reef. Electrical currents sent through the steel frames, accelerates the corals' growth by three to four times, reported New Scientist. It's possible this technique could help rebuild the reef and make the coral more likely to survive bleaching events.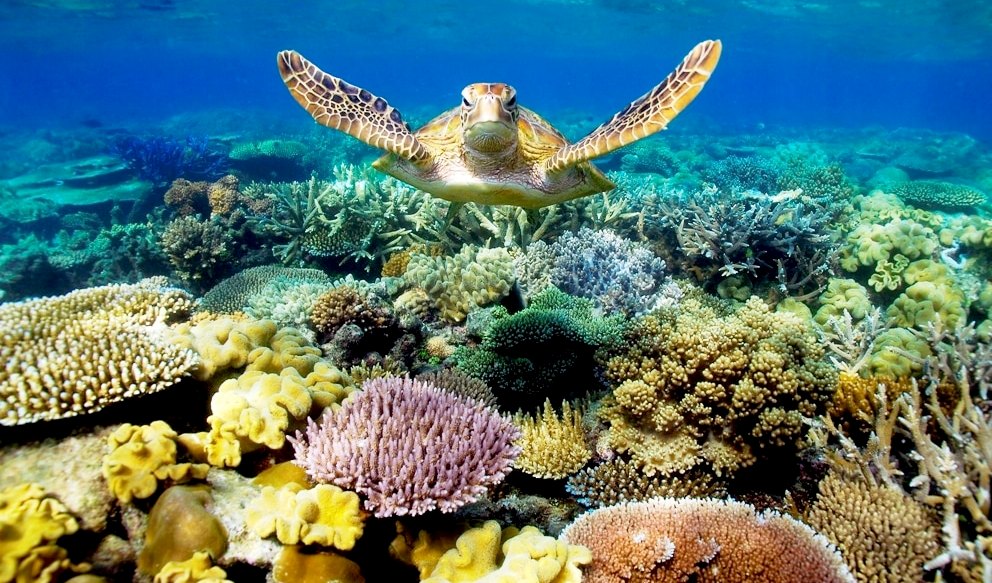 ...


ORIGIN AND DEVELOPMENT OF REEFS

English naturalist Charles Darwin concluded in 1842 that barrier reefs began as reefs fringing the land around which they now form a barrier and that oceanic atoll reefs began as reefs fringing a volcanic island. Subsidence of the land fringed was thought to allow the reef to grow upward (and outward over its own fore-reef debris). Maximum growth would occur at the seaward edge, and lagoons would develop between the ascending barrier, or atoll, reef and the land or volcanic cone.
When the volcanic cone became completely submerged, the atoll lagoon would contain only coral islands. Fundamentally, Darwin's concept is still valid, although many consider submergence by the rise of sea level, following melting of ice sheets that appeared during the Pleistocene Epoch (2,600,000 to 11,700 years ago), to be a better explanation of the latest upward growth of many reefs, particularly on continental shelves.
Mid-ocean stages of coral reef development are explained by plate-tectonic theory, according to which the ocean floor subsides as it spreads outward from oceanic ridges. The Hawaiian Islands, with barrier reefs in the southeast grading to atolls in the northwest, is a good example of this.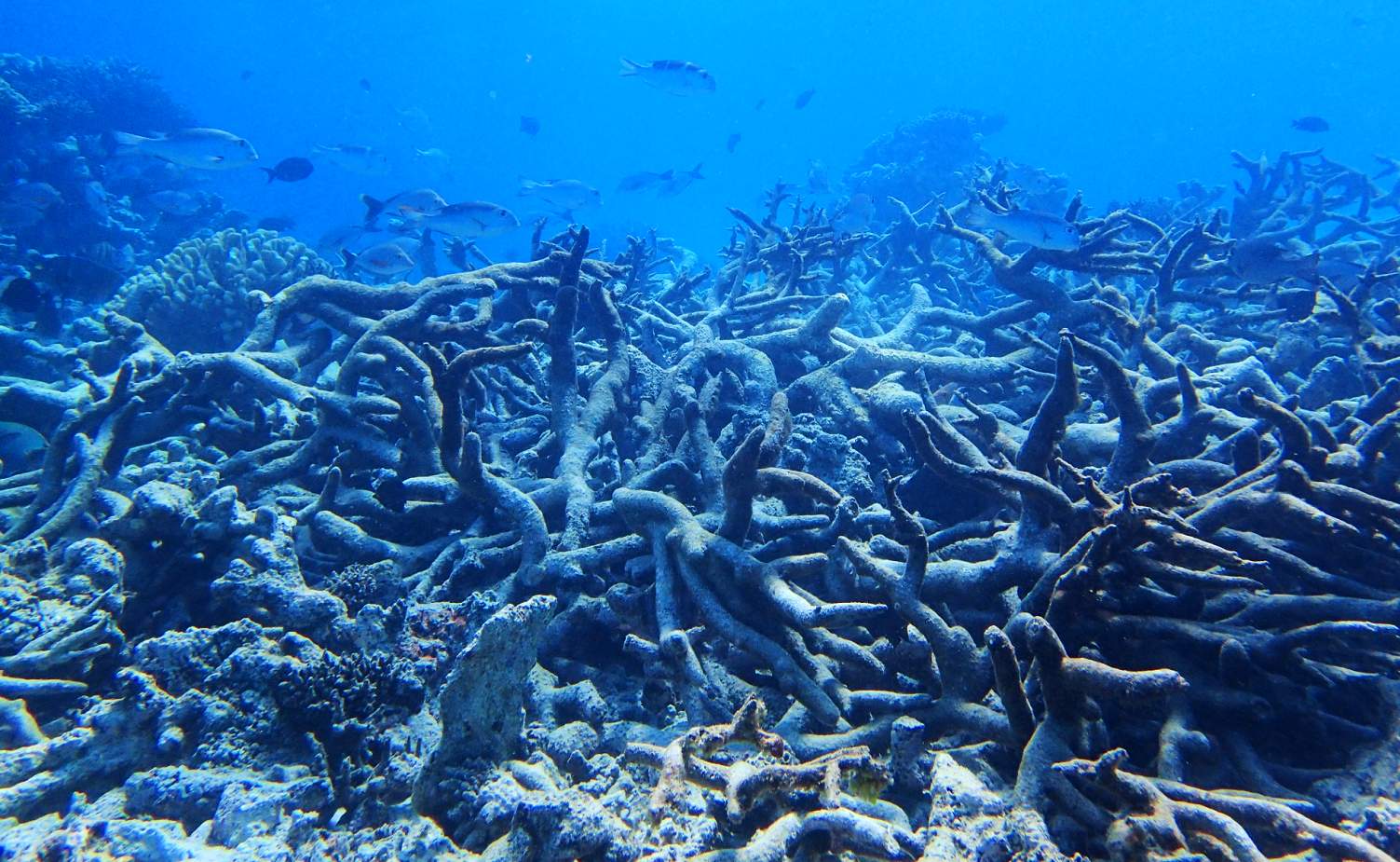 .....
....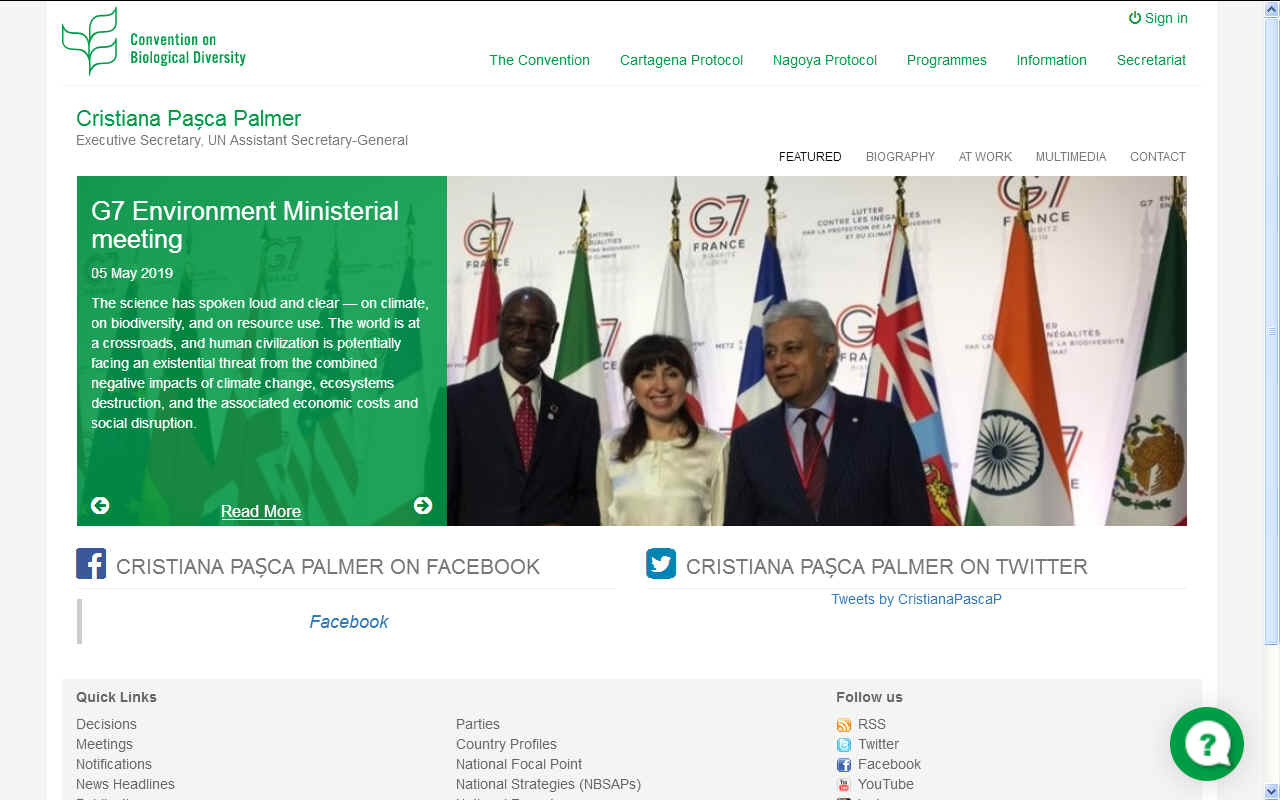 CONTACTS
.....
BIODIVERSITY COP HISTORY
| | |
| --- | --- |
| COP 1: 1994 Nassau, Bahamas, Nov & Dec | COP 8: 2006 Curitiba, Brazil, 8 Mar |
| COP 2: 1995 Jakarta, Indonesia, Nov | COP 9: 2008 Bonn, Germany, May |
| COP 3: 1996 Buenos Aires, Argentina, Nov | COP 10: 2010 Nagoya, Japan, Oct |
| COP 4: 1998 Bratislava, Slovakia, May | COP 11: 2012 Hyderabad, India |
| EXCOP: 1999 Cartagena, Colombia, Feb | COP 12: 2014 Pyeongchang, Republic of Korea, Oct |
| COP 5: 2000 Nairobi, Kenya, May | COP 13: 2016 Cancun, Mexico, 2 to 17 Dec |
| COP 6: 2002 The Hague, Netherlands, April | COP 14: 2018 Sharm El-Sheikh, Egypt, 17 to 29 Nov |
| COP 7: 2004 Kuala Lumpur, Malaysia, Feb | COP 15: 2020 Kunming, Yunnan, China |
CLIMATE CHANGE UN COP HISTORY
1995 COP 1, BERLIN, GERMANY
1996 COP 2, GENEVA, SWITZERLAND
1997 COP 3, KYOTO, JAPAN
1998 COP 4, BUENOS AIRES, ARGENTINA
1999 COP 5, BONN, GERMANY
2000:COP 6, THE HAGUE, NETHERLANDS
2001 COP 7, MARRAKECH, MOROCCO
2002 COP 8, NEW DELHI, INDIA
2003 COP 9, MILAN, ITALY
2004 COP 10, BUENOS AIRES, ARGENTINA
2005 COP 11/CMP 1, MONTREAL, CANADA
2006 COP 12/CMP 2, NAIROBI, KENYA
2007 COP 13/CMP 3, BALI, INDONESIA

2008 COP 14/CMP 4, POZNAN, POLAND
2009 COP 15/CMP 5, COPENHAGEN, DENMARK
2010 COP 16/CMP 6, CANCUN, MEXICO
2011 COP 17/CMP 7, DURBAN, SOUTH AFRICA
2012 COP 18/CMP 8, DOHA, QATAR
2013 COP 19/CMP 9, WARSAW, POLAND
2014 COP 20/CMP 10, LIMA, PERU
2015 COP 21/CMP 11, Paris, France
2016 COP 22/CMP 12/CMA 1, Marrakech, Morocco
2017 COP 23/CMP 13/CMA 2, Bonn, Germany
2018 COP 24/CMP 14/CMA 3, Katowice, Poland
2019 COP 25/CMP 15/CMA 4, Santiago, Chile

2020 COP 26/CMP 16/CMA 5, to be announced
DESERTIFICATION COP HISTORY
| | |
| --- | --- |
| COP 1: Rome, Italy, 29 Sept to 10 Oct 1997 | COP 9: Buenos Aires, Argentina, 21 Sept to 2 Oct 2009 |
| COP 2: Dakar, Senegal, 30 Nov to 11 Dec 1998 | COP 10: Changwon, South Korea, 10 to 20 Oct 2011 |
| COP 3: Recife, Brazil, 15 to 26 Nov 1999 | COP 11: Windhoek, Namibia, 16 to 27 Sept 2013 |
| COP 4: Bonn, Germany, 11 to 22 Dec 2000 | COP 12: Ankara, Turkey, 12 to 23 Oct 2015 |
| COP 5: Geneva, Switzerland, 1 to 12 Oct 2001 | COP 13: Ordos City, China, 6 to 16 Sept 2017 |
| COP 6: Havana, Cuba, 25 August to 5 Sept 2003 | COP 14: New Delhi, India, 2 to 13 Sept 2019 |
| COP 7: Nairobi, Kenya, 17 to 28 Oct 2005 | COP 15: 2020 |
| COP 8: Madrid, Spain, 3 to 14 Sept 2007 | COP 16: 2021 |
-
LINKS & REFERENCE
https://www.great-barrier-reef.com/
http://www.greatbarrierreef.org/
https://www.livescience.com/40276-coral-reefs.html
https://www.newscientist.com/article/2180369-divers-are-attempting-to-regrow-great-barrier-reef-with-electricity
https://www.nytimes.com/2017/09/20/climate/coral-great-barrier-reef.html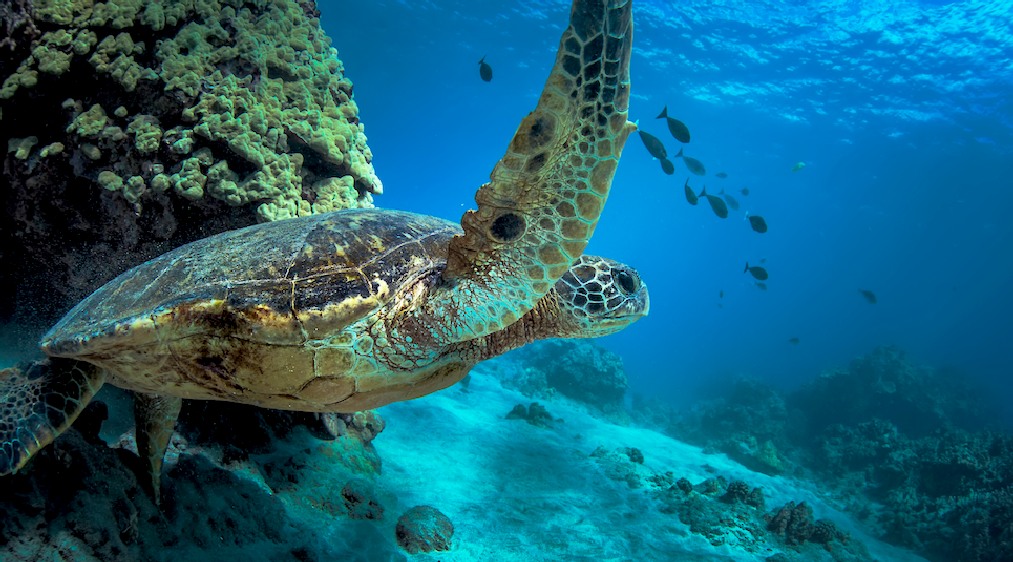 This website is provided on a free basis as a public information service. copyright © Cleaner Oceans Foundation Ltd (COFL) (Company No: 4674774) 2019. Solar Studios, BN271RF, United Kingdom. COFL is a company without share capital.