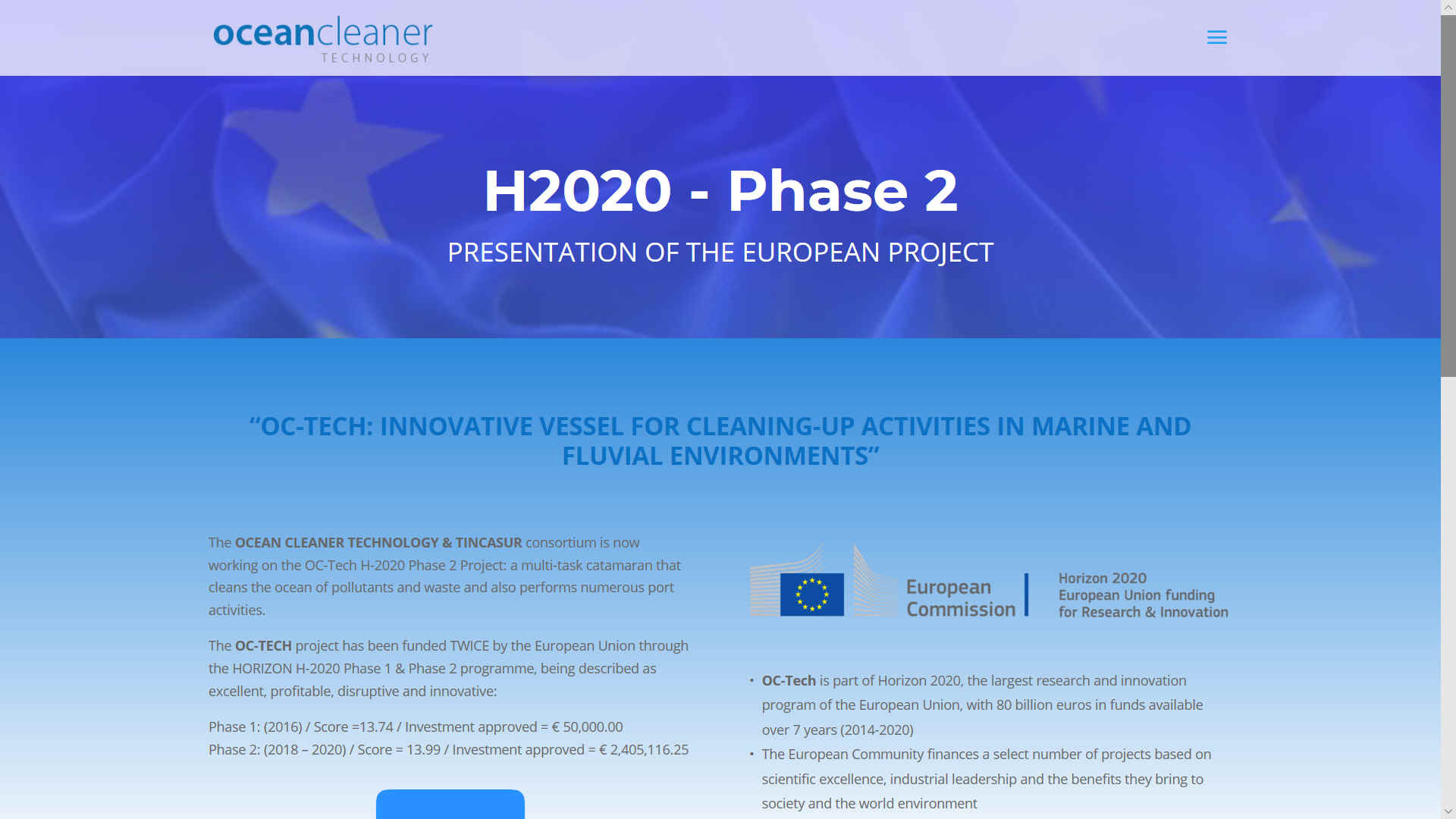 H2020 EU PROJECT - This was a project to build an internal combustion powered catamaran in aluminium and then to equip the vessel with skimmer equipment and water filtration equipment.

This project has received funding from the European Union's Horizon 2020 research and innovation programme under grant agreement No 783773 – OC-TECH

The OCEAN CLEANER TECHNOLOGY & TINCASUR consortium was for work on the OC-Tech H-2020 project, Phase 2 Project was to develop a multi-task catamaran that cleans the ocean of pollutants and waste and also performs numerous port activities.

The OC-TECH project has been funded TWICE by the European Union through the HORIZON H-2020 Phase 1 & Phase 2 programme, being described as excellent, profitable, disruptive and innovative:

Phase 1: (2016) / Score =13.74 / Investment approved = € 50,000.00
Phase 2: (2018 – 2020) / Score = 13.99 / Investment approved = € 2,405,116.25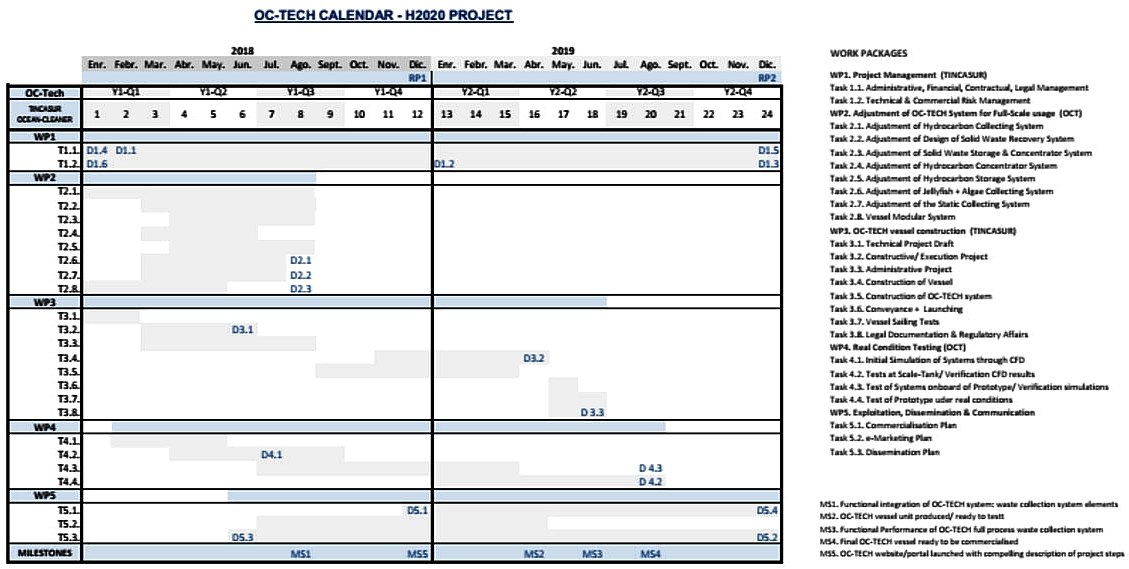 MAIN OBJECTIVES

ONE - Researching and developing the innovative patented OC-Tech HORIZON systems for cleaning, storage and treatment of marine pollutants and waste.

TWO - Building an OC-Tech HORIZON vessel in aluminium integrating multi-task equipment and innovative cleaning systems.

THREE - Promoting a DISSEMINATION PLAN to boost the OC-TECH market worldwide and foster a sustainable circular economy.


1.Building a competitive and modern multi-task OC-Tech HORIZON vessel in aluminium
Objective: Designing a competitive multi-task vessel, incorporating unique elements and equipment valued by customers:
OC-TECH, a modern multi-task vessel

a - Modern control bridge located on one side of the vessel.
b - Sea crane placed on the other side of the vessel, equipped to lift, move and place heavy equipment in the OC-Tech, and to deliver and collect the stored liquid and solid waste deposits.

2.Developing the innovative patented OC-Tech systems for the cleaning and treatment of pollutants and marine litter

Objective: Investigating, analysing and developing OC-Tech's innovative patented cleaning, storage and treatment systems for liquid and solid floating waste, confirming their performance and integrating them into the OC-Tech vessel itself.
Waste collection system

Innovative collection system targeting floating pollutants and spills, without using any chemicals or flocculating agents so as to avoid further polluting the sea. R&D methodology: Research used to develop the waste collection system.
Stage 1: CFD (Computational Fluid Dynamics) calculations
Stage 2: Construction of prototypes in an artificial water channel
Stage 3: Construction of real models
Stage 4: Full-scale assembly and tests on lab vessel
Waste concentrator system

The innovative continuous waste storage system, located on the deck of the catamaran, has an inlet where the polluted water goes in and an outlet that returns clean water into the sea, avoiding having to continually go back to the port to deliver the collected waste. R&D methodology: Research used to develop the waste concentrator system.

Stage 1: Blueprint design
Stage 2: Construction of prototypes to perform trial and error tests
Stage 3: Construction of real models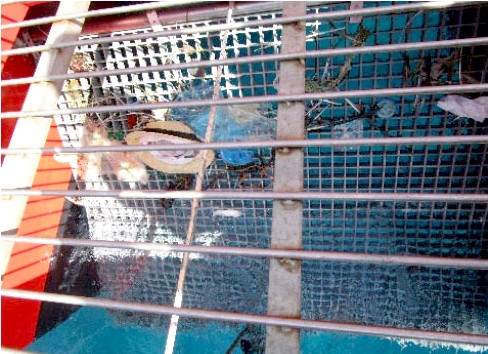 Solid waste collection system

The OC-Tech boat picks up bulky solids separately, storing marine litter in other tanks separately from the floating liquid waste.

The OC-Tech vessel will have a floating solid waste collection system in the bow operating continuously and which will be responsible for picking up any floating packaging and bulky litter, and storing it in a solid waste tank located on the deck. R&D methodology: Research used to develop the solid waste collection system.

Stage 1: Blueprint design
Stage 2: Integration of devices for testing in the lab vessel
Stage 3: Construction of real models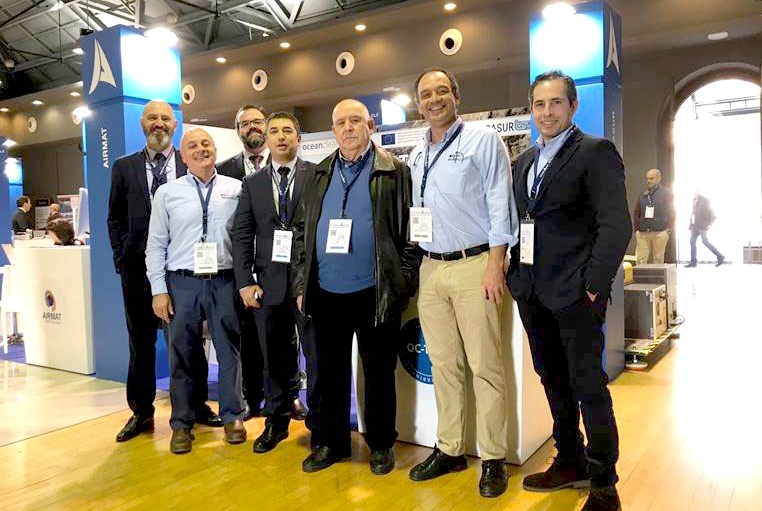 InnovAzul 2018 - InnovAzul 2018: First International Meeting on Knowledge and Blue Growth International Congress. Ocean Cleaner and Tincasur stand. Palacio de Congresos conference centre. Cadiz. 29 and 30 November 2018.
MILESTONES
1. Development of the lab vessel before H-2020 PHASE 2 and during the full-scale tests in Tenerife
2. Milestones and successes achieved in H-2020 PHASE 2 of this project

OC Tecg demonstrated that they can pick up any surface waste, including:

- Hydrocarbons and oils
- Microplastics
- Microalgae bloom
- Floating marine litter
OC-Tech is part of Horizon 2020, the largest research and innovation program of the European Union, with 80 billion euros in funds available over 7 years (2014-2020).
The European Community finances a select number of projects based on scientific excellence, industrial leadership and the benefits they bring to society and the world environment. OC-Tech has passed the demanding tests of the European Commission with excellent scores in all categories
DISSEMINATION
The project has presented and been present at these events in 2018 and 2019: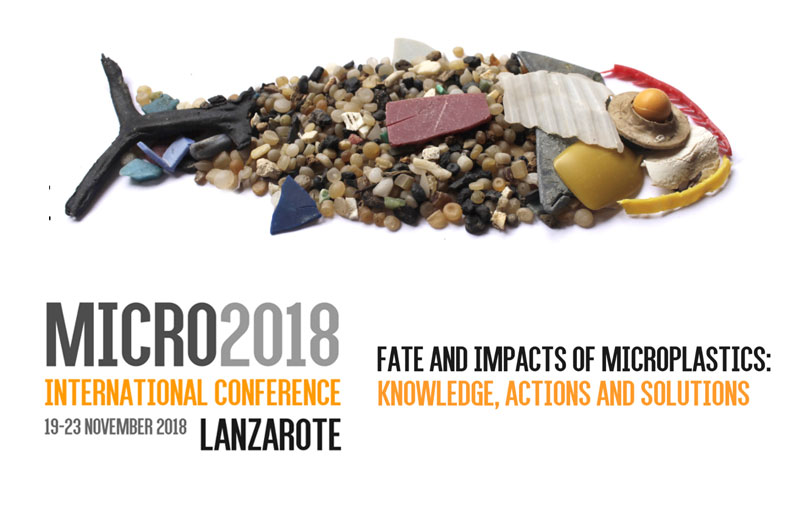 [LEFT] Fate and impacts of microplastics - Knowledge, actions and solutions. International Congress. Presented by Santiago Miranda. Local government of Lanzarote. 19 November 2018. [RIGHT] Interspill 2018 International Congress. Attended by Luis Miranda and Christian Harhoff. London. 13-15 March 2018.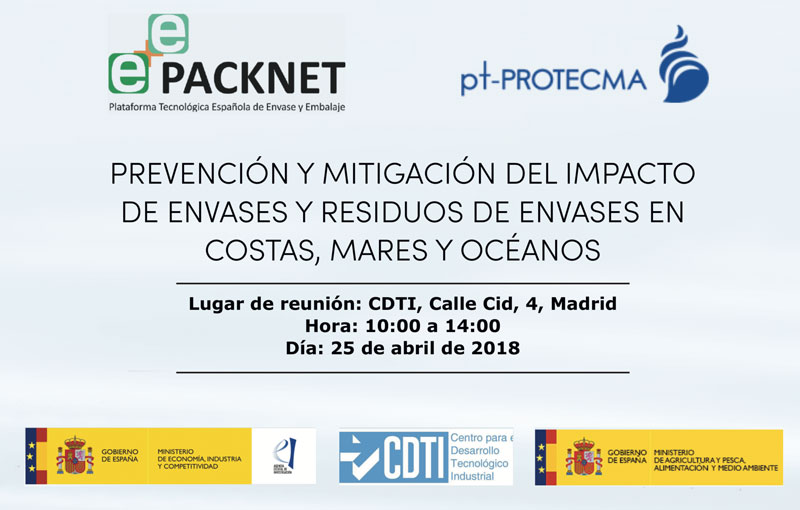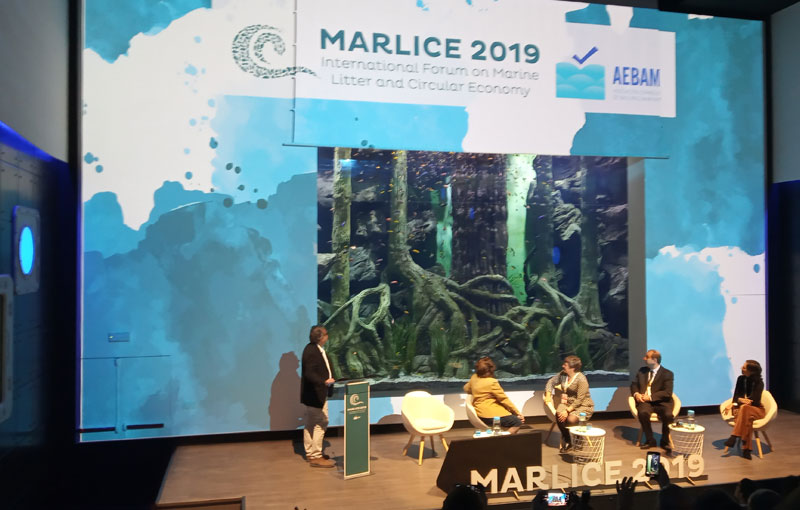 [LEFT] PackNet - Prevention and mitigation of the impact of packaging and packaging waste on coasts, seas and oceans" - Technology Conference.Attended by Luis Miranda and Santiago Miranda. CDTI building. Madrid. 25 April 2018. [RIGHT] Marlice 2019 - Internacional forum of marine litter and circular economy. Business meeting of the environment sector with Ecoembes. Project presentation by Santiago Miranda. Cadiz Chamber of Commerce, April 9, 2019.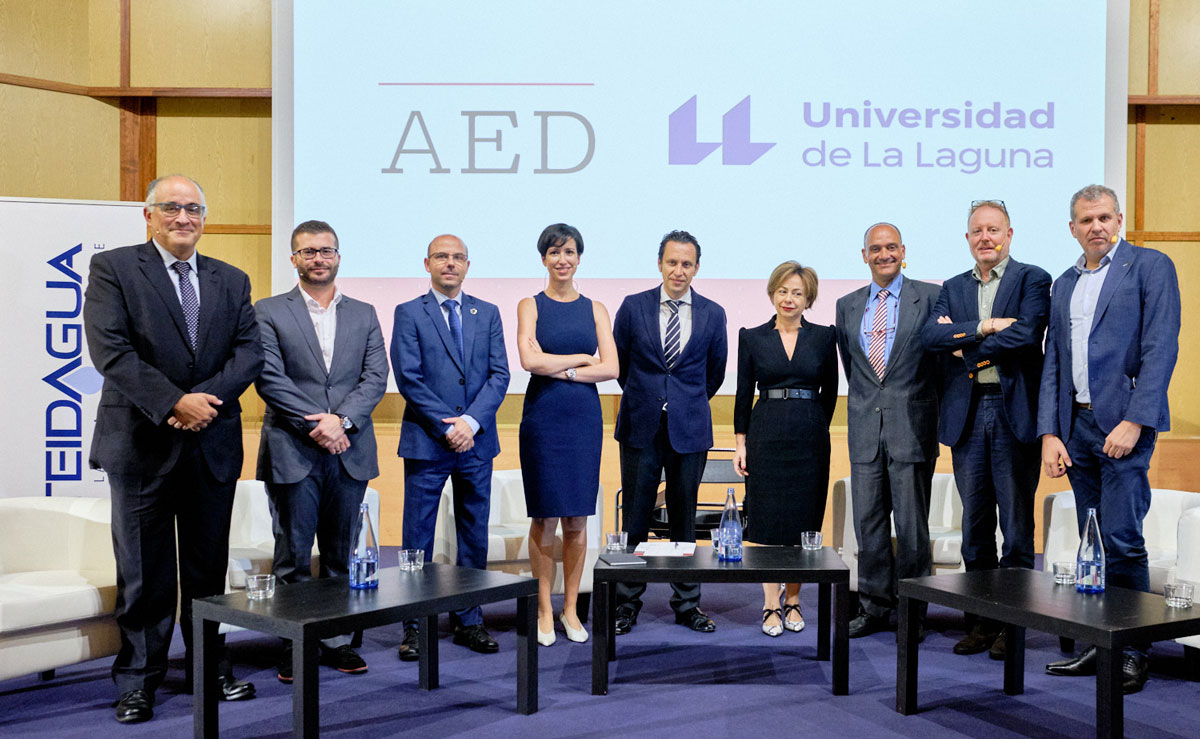 Circular Economy Business Meeting in Canarias. Project presentation by Luis Miranda. Debate AED. La Laguna University, Tenerife. November 14, 2019.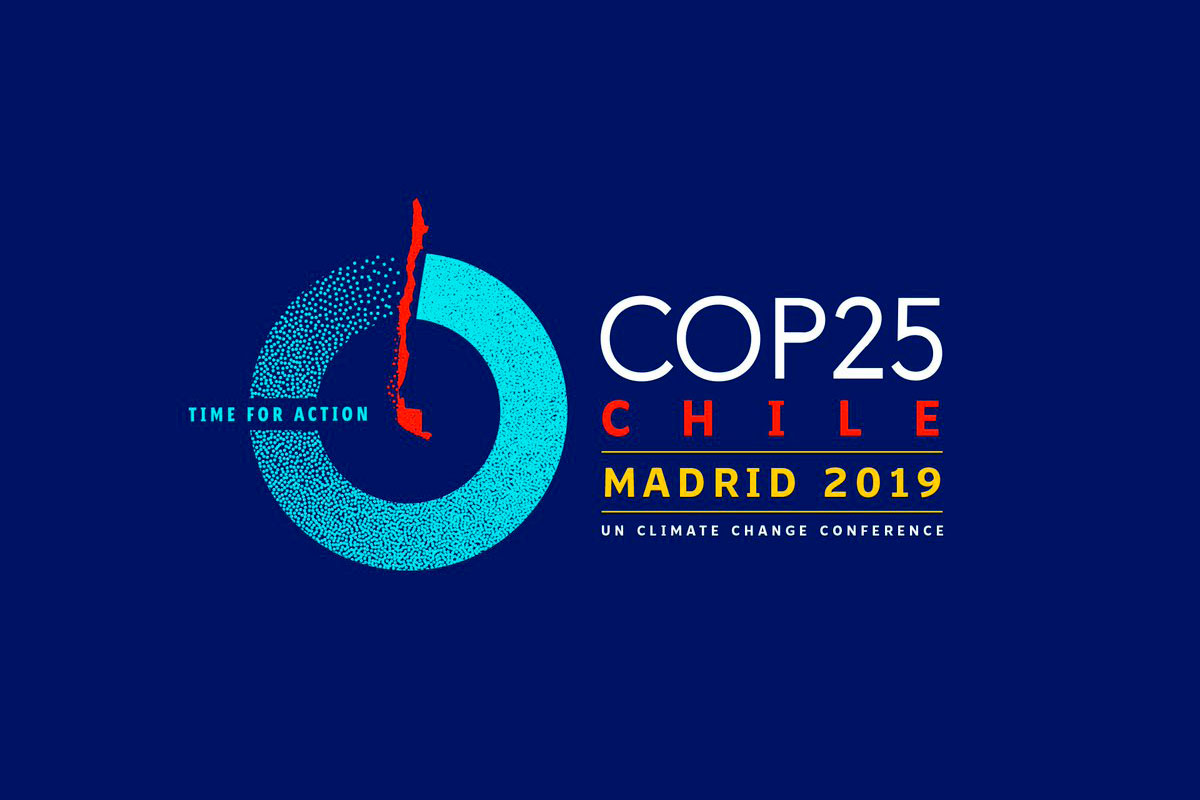 UN Conference on Climate Change (COP25). OC-Tech stand at COP25 presented by Luis and Santiago Miranda. Madrid, Stand UCA-CEIMAR. From December 11 to 13, 2019.

CONTACTS

Centros de Empresas CEEI Bahía de Cádiz
Oficina 111
Calle Manantial, 13
El Puerto de Santa María
11500 Cádiz – Spain

+34 663 737 385
+34 696 698 821
+34 661 927 763

info@oceancleaner.es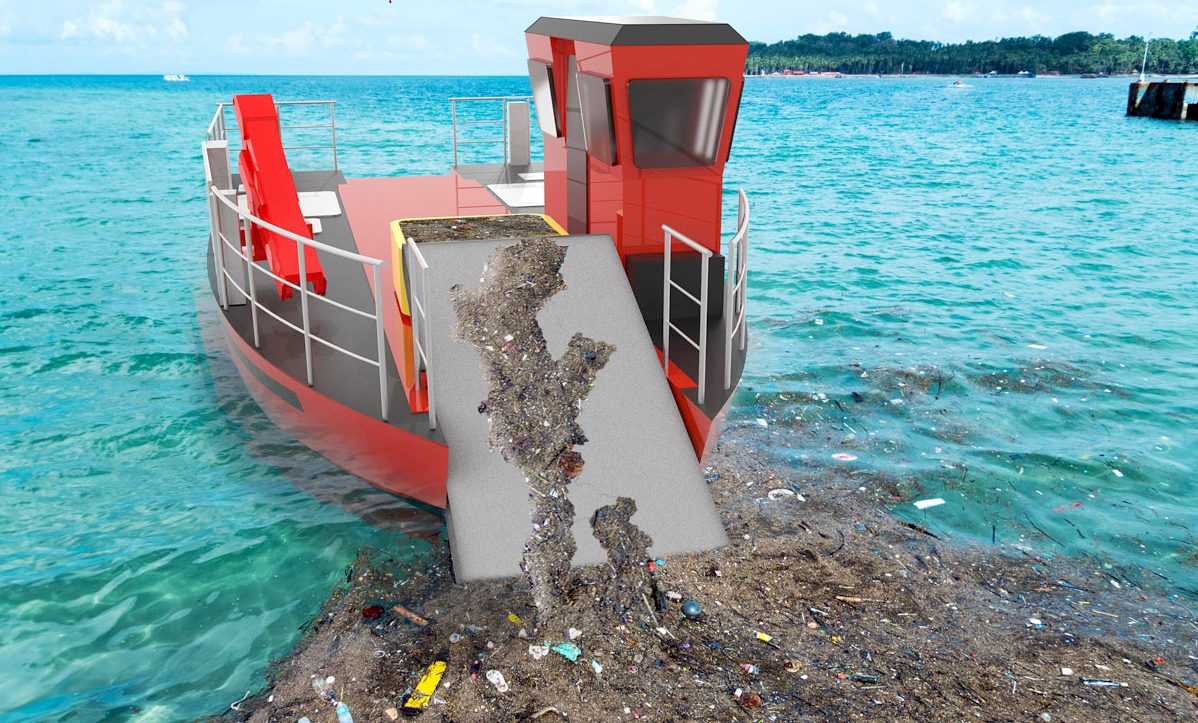 ....
....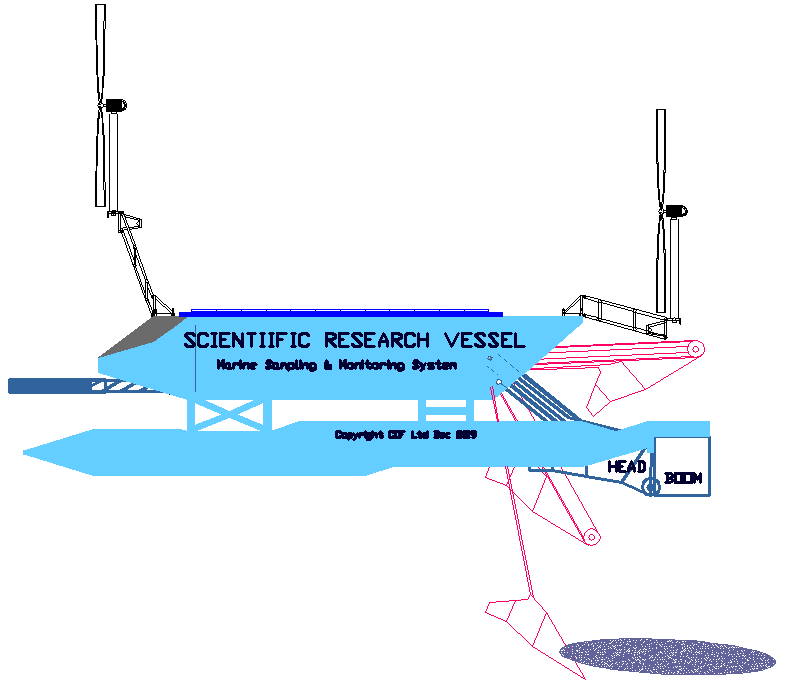 PERSISTENT MONITORING - Machines like the Pilot SeaVax could provide sufficient energy to sample the marine environment continuously, also able to transport the sensors and sampling equipment anywhere in the world without using fossil fuels. The head of this machine can be raised out of the water during transit, and lowered to 8 meters to sample microplastics near or on the seafloor or riverbeds - example positions shown in red. It should be possible to design a head to travel to greater depths, but this will require additional R&D over and above that to achieve what is shown in principle.
Although we have shown this equipment as part of the SeaVax Pilot concept, once completed, heads like this could be fitted to other suitably equipped research vessels with sufficient energy to be able to operate the equipment.
NOTE: At the moment this is just a concept, without appropriate levels of funding for research and then for development, ZEV research vessels like this will never become a reality. It would be a mistake to think that with a drawing like that above, that the research to make it possible has already been done.

LINKS & REFERENCE
https://www.oceancleaner.es/h2020/project-dissemination-2018/
https://www.oceancleaner.es/h2020/project-dissemination-2019/
https://www.oceancleaner.es/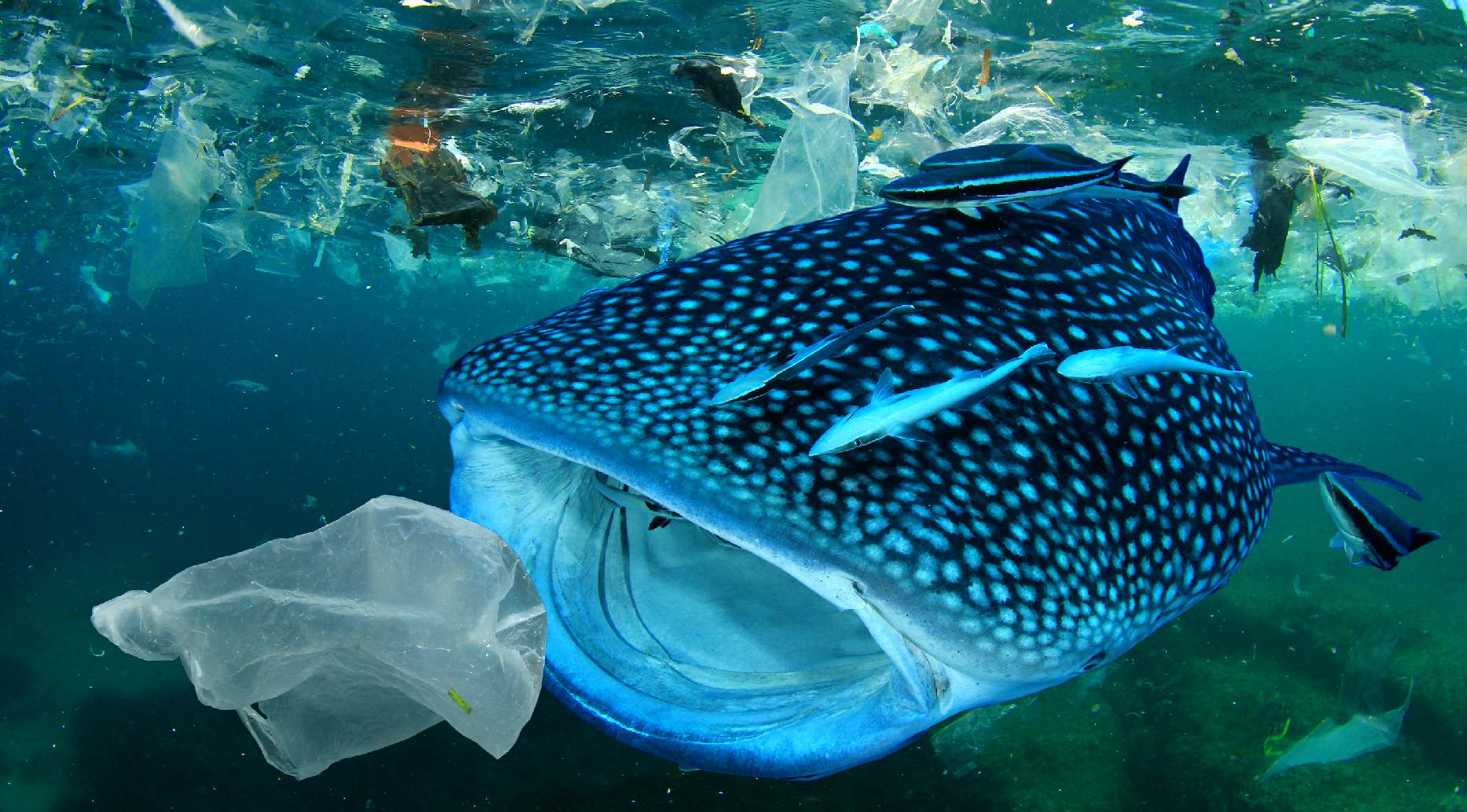 WHAT DRIVES US - It is pictures like this whale shark swimming in garbage that it is about to ingest that makes our blood boil. What are we doing, letting a situation like this develop? The fish eat the plastic and we eat the toxic fish. We are slowly poisoning ourselves and our world.