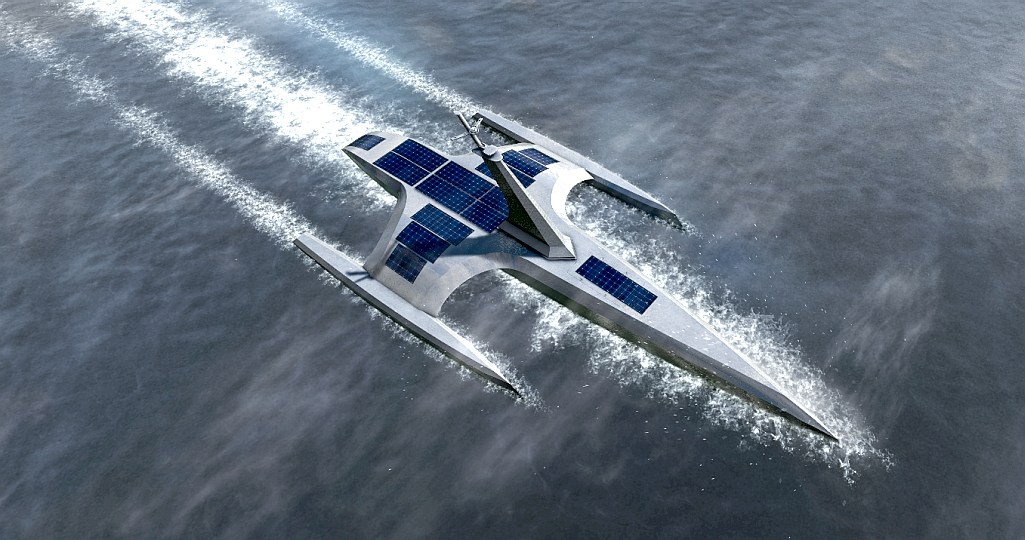 CAD - Artists impression of the Mayflower concept, that evolved into the aluminium boat launched in Plymouth in 2020.
2016 - In this year Promare, along with other team members (crew) raised over £102,000 pounds during a crowdfunder. The idea was to build a 100 foot trimaran that would be solar and wind powered. The aim was to have this vessel ready for the 400th anniversary of the Pilgrim Fathers voyage from Plymouth, Devon, in England, to Plymouth, Massachusetts in the USA, to be able to undertake such voyage in September 2020.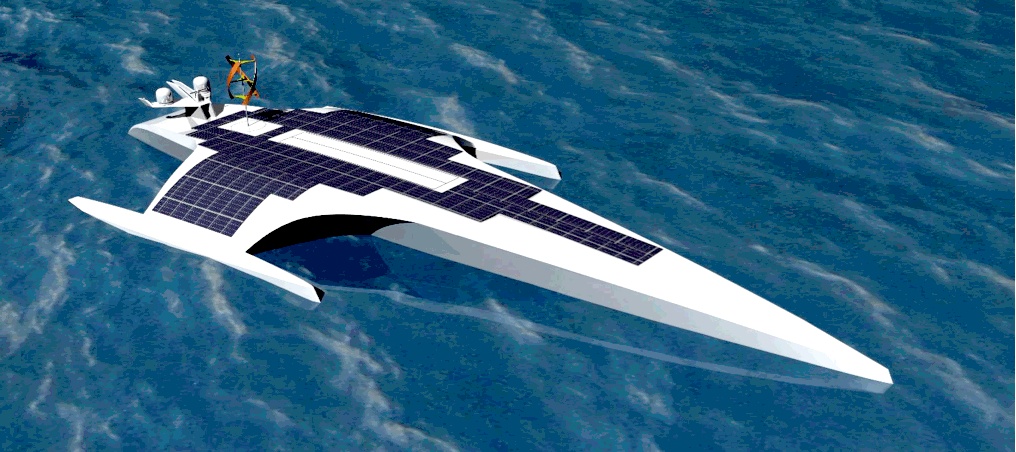 SMART MACHINES - No mast, but still showing a small wind turbine, and solar panels not that far removed from that actually fitted. Judging by the size of the panels, this must have been a 100 foot version of the hull.
2020 - The IBM Mayflower Autonomous Ship (actually a 15 meter boat, but the acronym was not so good) was launched in September 2020 in Plymouth, amid a blaze of publicity where the vast majority of news media failed to notice that the vessel was actually diesel-electric, with solar panels to augment power for the onboard equipment. It's strange that nobody noticed the trimaran had no vertical rigid wingsail, as per the publicity that went out for the crowdfunder. Due to Covid19 delays, the planned voyage was not a possibility. It had to be delayed until April 2021.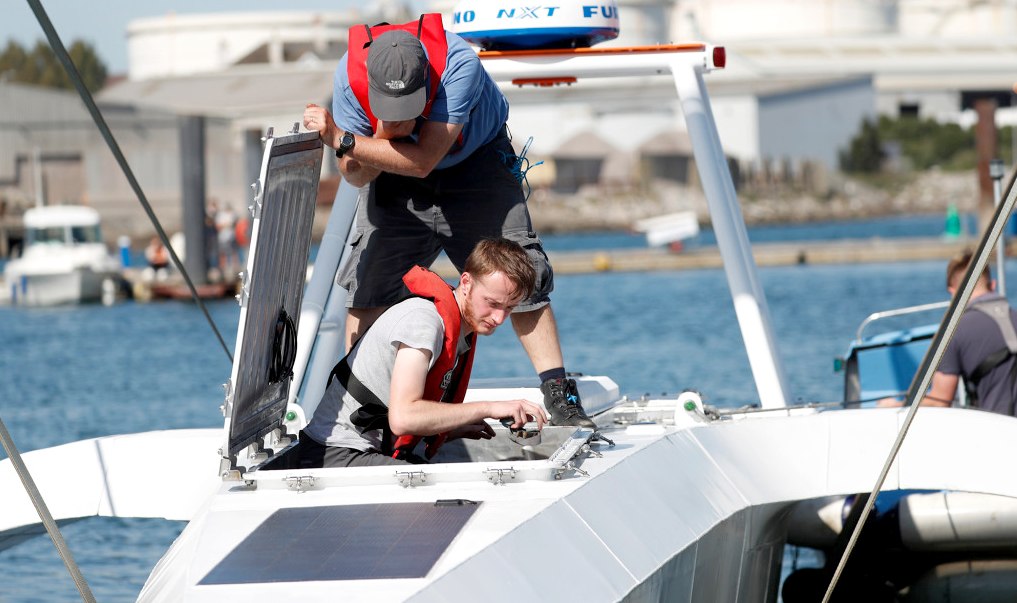 2021 - Regardless of the mis-description and failure of their marketing department(s) to make sure the correct information went to press, the IBM Mayflower is a virtual floating laboratory, that as you will see from the companies supplying equipment, and the team involved on the project, is very comprehensive. Not only that, but with IBM's AI Captain, a crossing of the Atlantic by a large unmanned boat, will be a "giant leap for mankind" in the field of maritime advancement.
2022 >>>>
Without giving any dates, the virtual crew have mentioned that an autonomous circumnavigation might be a possibility one day. Such proposition was first suggested in 2013 by Bluebird Marine Systems, whose advocate wrote to the United Nations' IMO, to ask if there were any plans to alter the Prevention of Collisions At Sea Regulations (COLREGs) to take account of the impending autonomous revolution. As a matter of fact, the IMO wrote back to confirm they had no such intentions. Hence, the Elizabeth Swann, designed to not only comply with the regulations, but exceed the performance of the human navigators.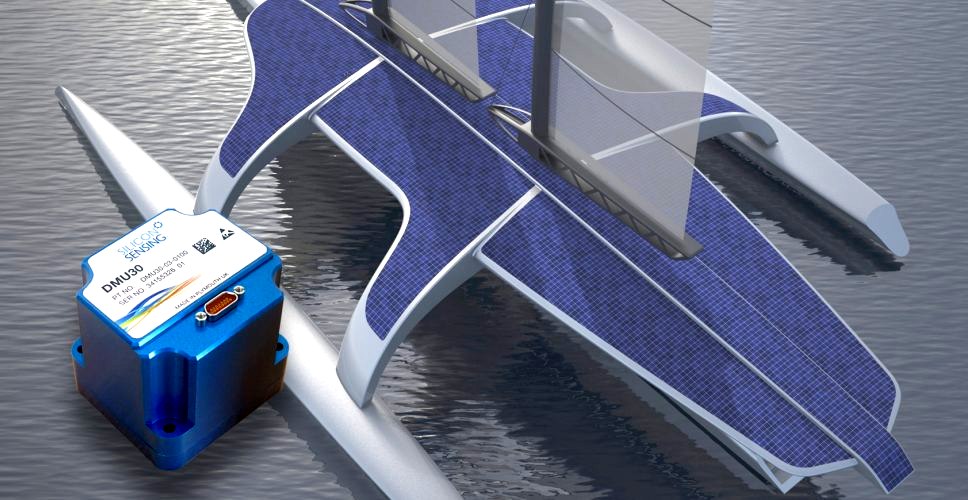 State of the art navigation and marine sensing instruments adorn the Mayflower, though the solar arrays and wing sails did not materialize in this incantation.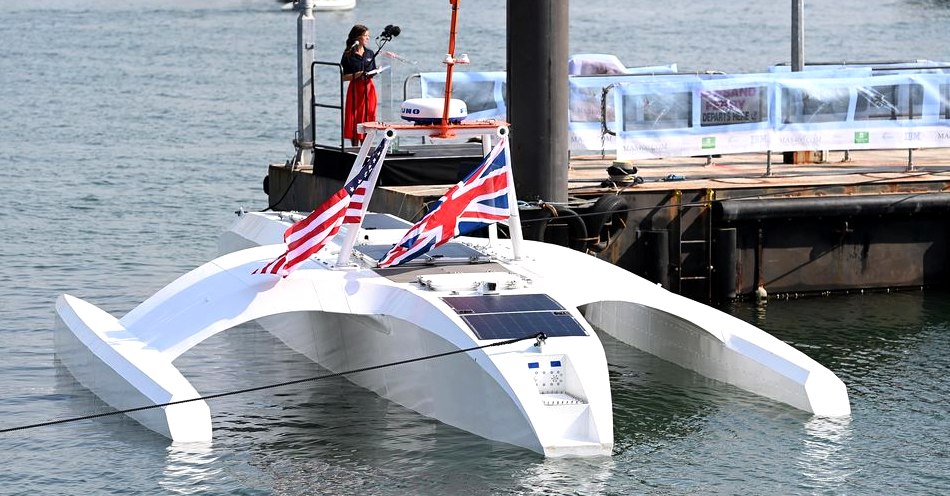 September launching ceremony at Plymouth in Devon, UK. The American Ambassador Woody Johnson did the honours. Around seven months from this event, the Mayflower is due to set out across the Atlantic ocean, provided there are no hiccups. Fingers crossed.
We look forward to seeing how this vessel performs. She will not be much of a shaker in climate change terms, we don't think anyone expects that. But she may provide a great deal of information about ocean plastics. Hopefully, linked to geographical location. And even better, sharing that information so that the world's delinquent Governments might sit up and take notice - even put their hands in their taxpayer's pockets to reduce their national health costs and stave of a generation of fish eaters ridden with cancer.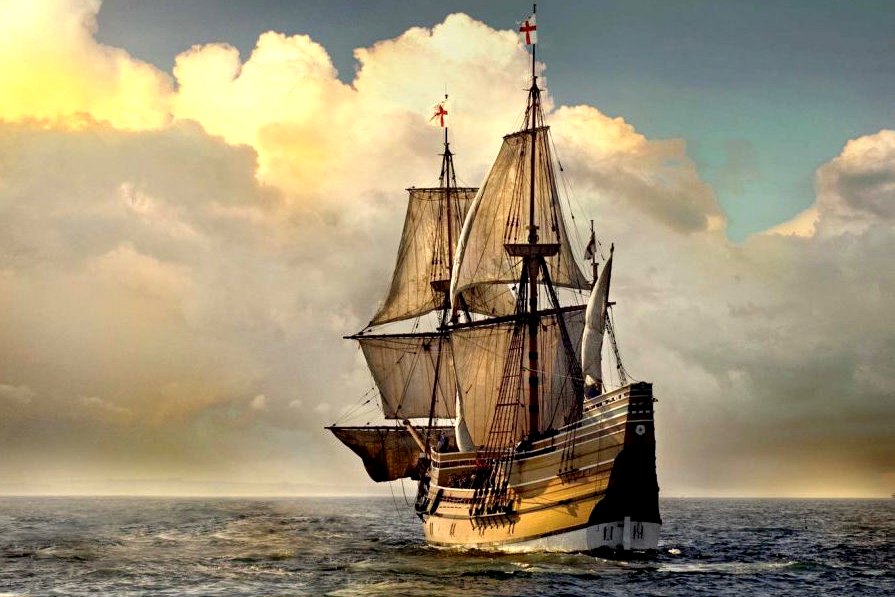 When the original Mayflower sailed from Plymouth alone on September 16, 1620, with what Bradford called "a prosperous wind", she carried 102 passengers plus a crew of 25 to 30 officers and men, bringing the total aboard to approximately 130. However, at about 180 tons, the Mayflower was considered a smaller cargo ship, having traveled mainly between England and Bordeaux with clothing and wine, not an ocean ship. Nor was it in good shape, as it was sold for scrap four years after her Atlantic voyage. She was a high built craft forward and aft measuring approximately 100 feet (30 m) in length and about 25 feet (7.6 m) at her widest point.

Mayflower was square-rigged with a beakhead bow and high, castle-like structures fore and aft which protected the crew and the main deck from the elements—designs that were typical of English merchant ships of the early 17th century. Her stern carried a 30-foot high, square aft-castle which made the ship difficult to sail close to the wind and not well suited against the North Atlantic's prevailing westerlies, especially in the fall and winter of 1620; the voyage from England to America took more than two months as a result. Mayflower's return trip to London in April–May 1621 took less than half that time, with the same strong winds now blowing in the direction of the voyage.

For a ship that would sail into the pages of history, the Mayflower was not important enough to be registered in the port book of Plymouth in 1620. Pages from September of that year show no trace of the vessel, because it was to carry only 102 passengers and no cargo, making it of no official interest to customs or port operators.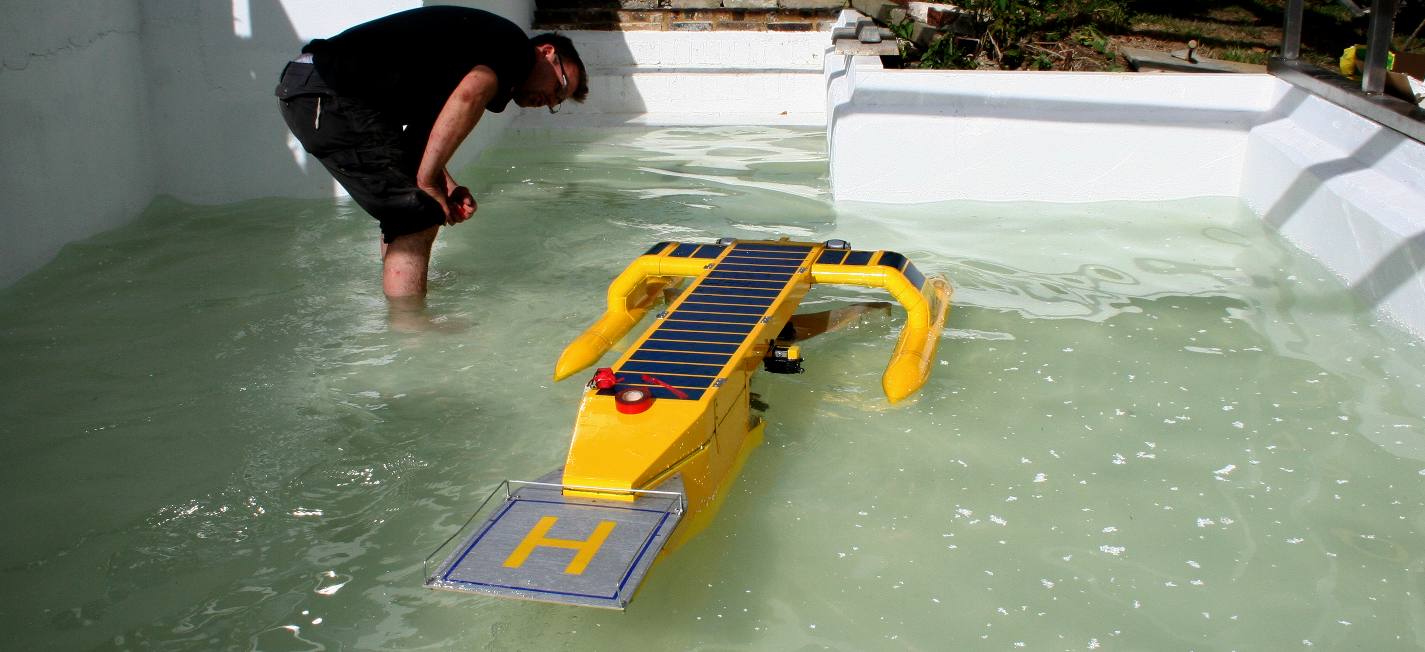 OCEAN CLEANING MACHINES - SeaVax, designed in 2015, is an unmanned vessel reliant on autonomous COLREGs compliant autonomous navigation to clean the oceans of plastic waste. This is a proof of concept model @ 1:20 scale. The full size solar and wind powered (selective) water filtration machine is 44 meters long (including the drone pad).
LINKS & REFERENCE
http://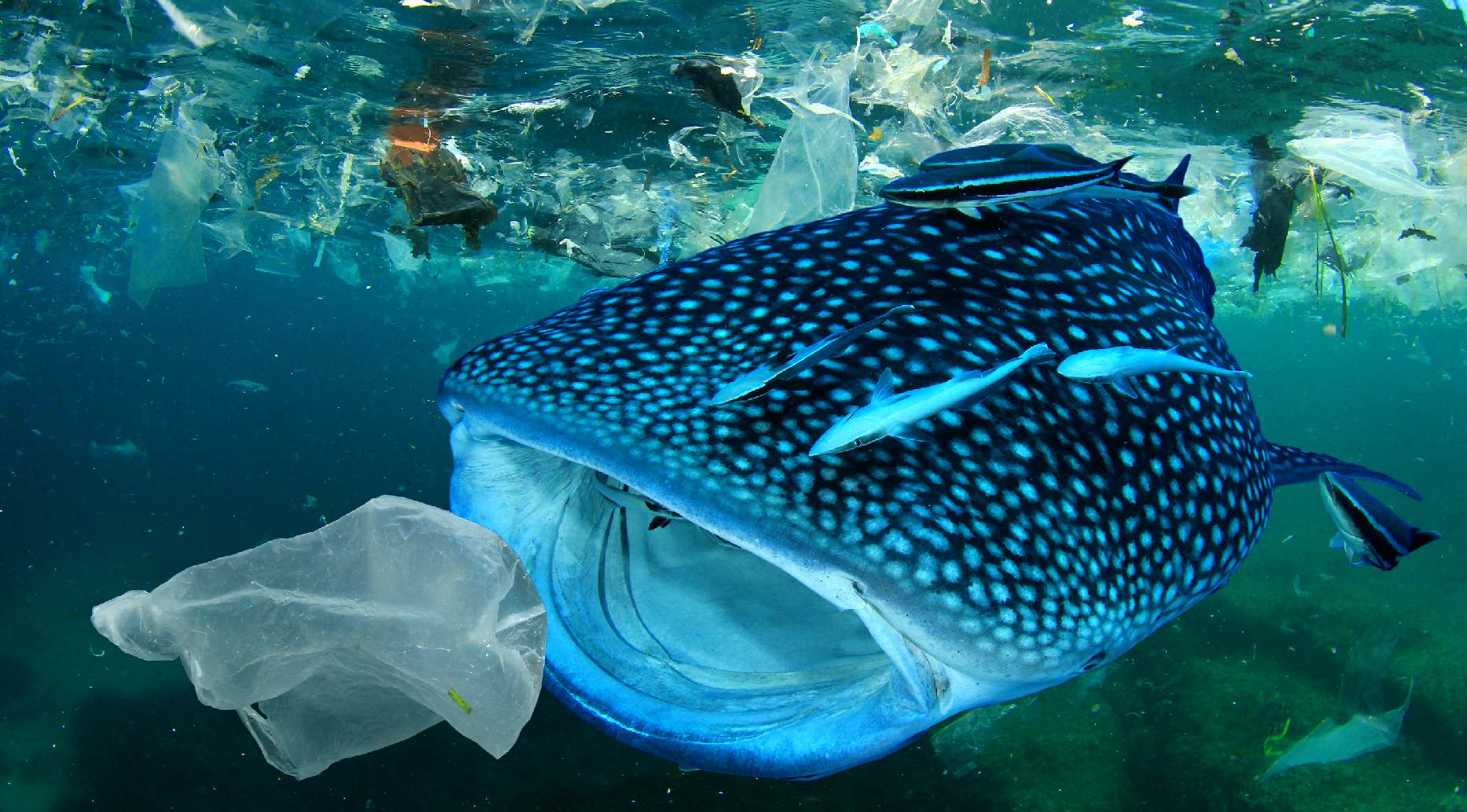 WHAT A MESS - The oceans are in a bad way, with fish and marine mammals swimming in a plastic soup that is carcinogenic. Humans eat fish and marine mammals that have been eating the plastic they are swimming in. Our Governments have known about this for years, but ignored the problem, presumably, hoping that their electorate would not find out about it. The electorate did find out about it, and just as their elected leaders probably imagined, were not that bothered about it. They still bought food wrapped in plastic, drinks in plastic bottles, and still littered the beaches. The electorate still bought clothes made of plastic - with fine fibers that wash into our rivers and out to sea. Those who did care were in a minority.