Ocean Plastic International Matchmaking Event is a networking event dedicated to creating contacts to potential investors, customers, suppliers, developers, and cooperative partners within the emerging ocean plastic industry. It is an alternative to traditional conferences where the right people can often be difficult to find.

At the event, participants have the opportunity to prebook online meetings with participating companies, thus maximizing efficiency. Participants include companies and institutions spanning all levels of the supply chain.

The purpose of the Business2Business event is to offer the frames for short personal meetings between your company and potential business or development partners. By joining the event you will be able to meet companies of your own choice. Each meeting lasts 30 minutes and you have the possibility to plan a maximum of 14 meetings.

Price: DKK 400,- + VAT. Euro 54 (members of Ocean Plastic Forum participate without charge).

THE ORGANISERS

Organiser behind the event is Ocean Plastic Forum - a partner and member organization working towards developing technologies and business models for collecting plastic from the ocean, rivers, seashores, harbors, and waters globally.

The aim is to improve the environment in the aquatic sphere and along the shores by recovering the plastic. The aim is also to cycle the recovered plastic as high as possible in the value chain with the largest possible plastic quantities recycled into new products, alternatively, technologies that convert the plastic so it can be recycled in the form of monomer recovery / new polymers.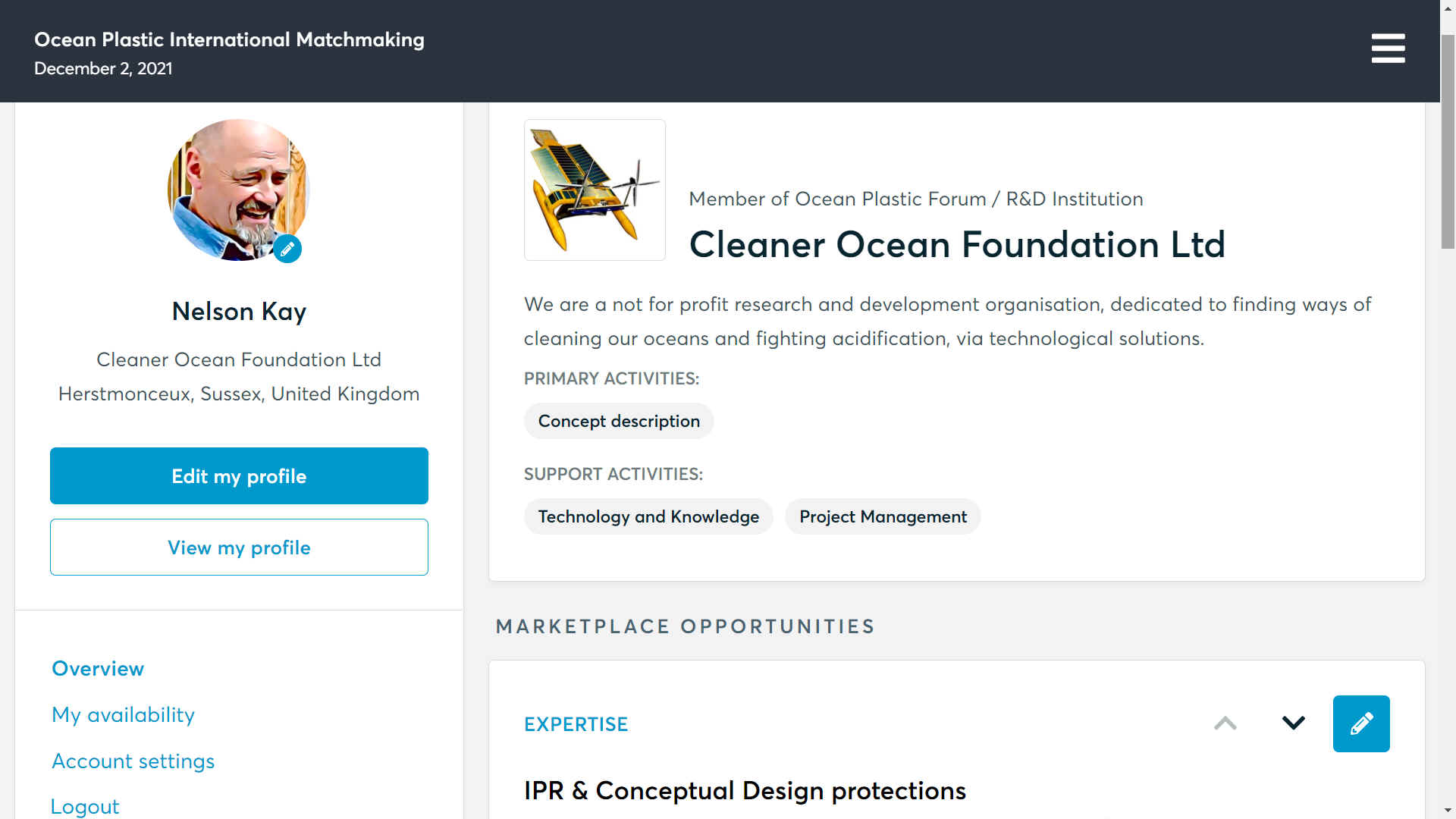 DANISH INDUSTRY FOUNDATION (DIF)

The Foundation is an engaged philanthropic foundation with the purpose of supporting and enhancing the competitiveness of the Danish industry.

Competitiveness is crucial to the future success of Danish companies. The industry and business communities are key elements to growth, prosperity and job creation. In collaboration with the scientific and educational institutions, these key elements can create, market and export innovative business concepts and technologies, which will lead to a sustainable growth - economically as well as environmentally.
WHAT DIF DO

The Foundation supports projects that generate application-oriented knowledge, new competences and innovation, benefiting the industry. Through inspiration and project development, the Foundation's means must help bridge cooperation between science and business. As well as supporting application-based projects, the Foundation also develops its own strategic initiatives within areas that can contribute to an overall strengthening of the industry and business communities.

Each year, the Foundation aims at funding projects for up to 30 Million Euros. All projects must be open-sourced, and consistent with our mission and strategy. Thus, the Foundation's secretariat is actively engaged in all projects, and emphasizes communicating and sharing the findings and outcomes for the benefit of the applicants, companies, scientific community and other stakeholders.

Established in 1898, the Danish Industry Foundation is a registered business foundation and reports its annual accounts to the Danish Business Authority. In cooperation with the secretariat, a board of directors governs the Foundation's equity of approximately 650 Million Euros.

SPEAKERS

During the conference track of OPIM 2021, experts will provide insights in the plastic ocean industry. Speakers include:

Need for collaboration to solve challenges with ocean plastic in India
(Speaker to be announced)

EU funding for healthy oceans, seas, coastal and inland waters
Niels Gøtke, Head of Division, National Contact Point and member of the Programme Committee for Horizon Europe, Cluster 6, Danish Agency for Higher Education and Science

Current trends in the ocean plastic industry
(Speaker to be announced)

TECH SUPPORT

In case you experience technical problems during the matchmaking please contact
AIJA KONISEVSKA AZADI on +45 5010 3852 or aka@ndeu.dk
The virtual meetings take place through the integrated b2match video conferencing tool. The Video conferencing is 100% Browser operated and need no installation of any further programe.

CONTACTS

Ocean Plastic Forum
Peter Blach
+45 23424679
pb@oceanplasticforum.dk
www.oceanplasticforum.dk

Morten Holmager
+45 21 41 39 33
holmager@gmail.com
www.oceanplasticforum.dk
Enterprise Europe Network / North Denmark EU-office
Michael Rafn
+45 5045 6900
mra@ndeu.dk
www.enterprise-europe.dk

Aija Azadi
+45 50103852
aka@ndeu.dk
www.enterprise-europe.dk

https://opim2021.b2match.io/
https://www.industriensfond.dk/english/about-the-foundation
CREATIVE CAMPAIGN - The Cleaner Ocean Foundation are backing the production of a graphic novel featuring ingested ocean plastic and ghost netting as dangers to wildlife

, creating food shortages from toxic seafood and climate heating reducing land for agriculture - making whaling legal again.
TOMORROW IS NO MORE THAN THE CHOICES WE MAKE TODAY - ADAPT OR PERISH
We would urge those who do care about out planet to lobby politicians for common sense, starting with you local MP. A growing number of corporations are now pushing for a sustainable economy.
We all need to think about changing to a circular economy with food security and sustainable recycling of waste as hard points, but also cleaning up the mess we have created.
Those of you who saw what was going on and just stood on the sidelines, will have their great grand children to answer to. Many great civilizations have exhausted their natural resources. The ancient Egyptians, Incas and Aztecs. Your contribution will be a pyramid of plastic, for what is left of humanity to wonder at.