15 JUNE 2022

Scientists tend not to look for solutions, but skirt around the obvious "Dutch Boy" cures, as they ponder all manner of alternatives that are typically impractical. Such Red-Flag scenarios are amply demonstrated by the story of the Marine Chronometer, and John Harrison, who gave the nautical world the cure, but the Board of Longitude, had their heads firmly fixed on finding improbable solutions, so refused to award the prize money to the inventor of the accurate timepiece, as a practical navigation aid. Of course we should always look past the obvious, but not to the point of ignoring solutions to present day problems. Especially, where human health and food security are pressing issues.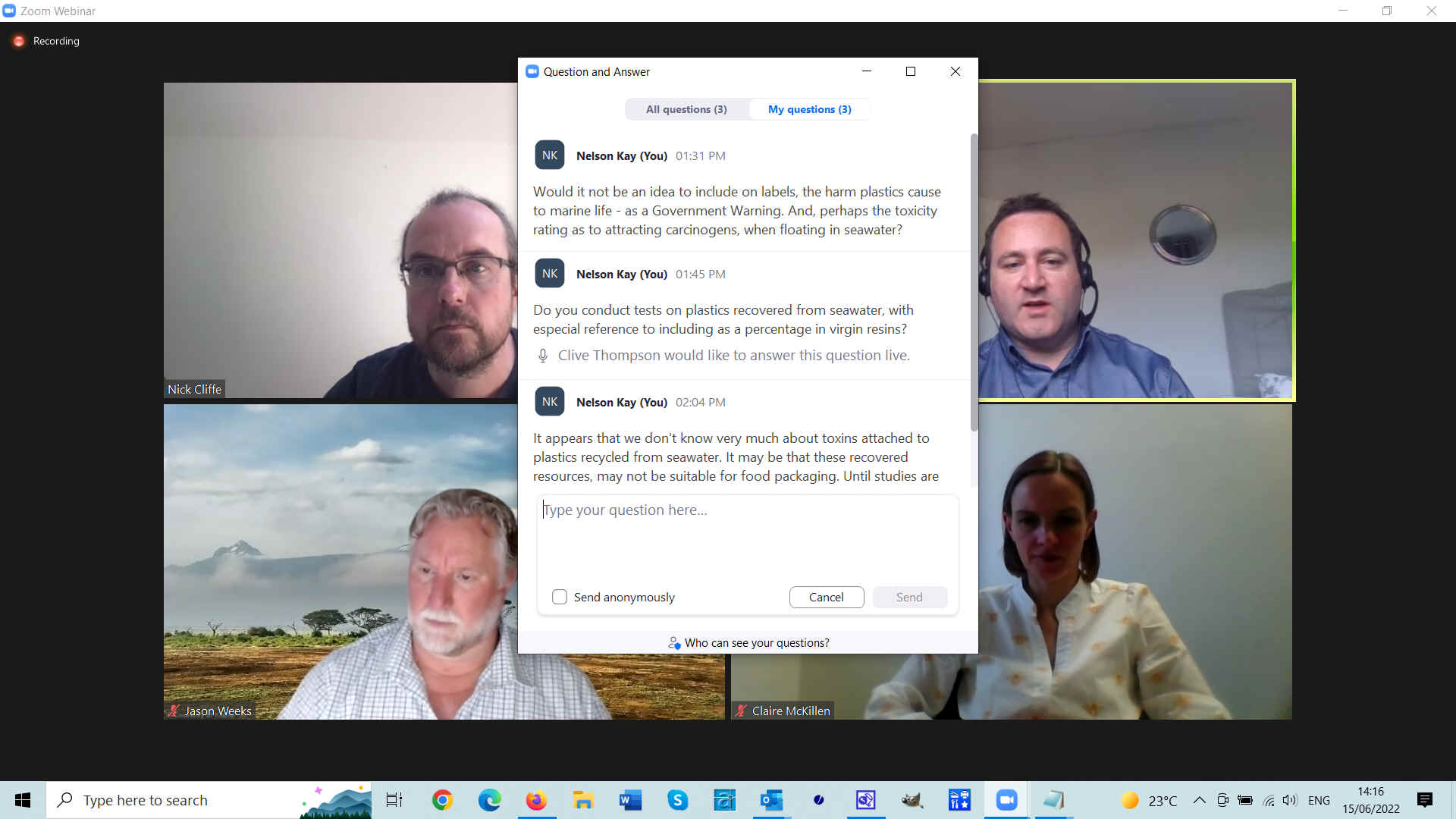 CLAIRE MCKILLEN - is the 'Packaging Migration and Mass Spectrometry Solutions' Team Manager, within the Food Quality and Safety Programme at Fera Science Ltd. She is responsible for the management of a team of diverse and experienced chemists who work together to provide customers with bespoke solutions to their Food Contact Material (FCM) enquiries. The team's areas of expertise include method development and validation as well as non-targeted high resolution mass spectrometry analysis for the determination of non-intentionally added substances (NIAS) in FCMs. Recently the team have been involved in the analysis of recycled materials (in particular recycled PET) for use as FCMs.

Claire trained as a chemist and has 20 years experience in analytical chemistry from across various sectors, in particular gas chromatography and mass spectrometry techniques and food packaging analysis. Claire is also the Fera lead for the UK National Reference Laboratory (NRL) for FCMs.
NICK CLIFFE - Is the Deputy Challenge Director for the Smart Sustainable Plastic Packaging Challenge at Innovate UK; this multi-year £60M programme is part of the Industrial Strategy Challenge Fund. The SSPP programme supports research and innovation to deliver a circular economy for plastic packaging in the UK.

DR SALLY BEKIN - holds a degree in Chemistry and a Ph.D in Polymer Science. She has been in tech transfer and supporting innovative companies to succeed for over nearly 20 years. She has built numerous collaborations and supported companies accessing funding for innovative projects with her expert knowledge of polymers. Prior to supporting companies she worked for the Malaysian government researching multi material blended elastomeric compounds and in the medical device industry where her patented formulations are still in production more than 20 years later. She has been an Innovation Lead at Innovate UK where she monitored a portfolio of over 60 projects and steered the scope for plastics related competitions. She is determined to see less plastic waste entering the environment whilst realising the positive benefits of polymers in mitigating climate change and supporting sustainability. She founded and currently heads up the UK Circular Plastics Network and leads on the Smart Sustainable Plastic Packaging activity at KTN. She also holds roles as a senior advisor for Systemiq, a NED for two early stage sustainable companies, and is a Fellow of the IOM3. She sits on a number of boards; notably the Sustainable Materials Innovation Hub, Plus X and on a number of IOM3 Leadership Groups.

TIM CHANDLER - Currently works as a Senior Policy Advisor at the Food Standards Agency in London. Tim joined the Food Contact Material policy team within the Chemical Safety Policy Unit in September 2017. Key responsibilities include policy development and risk management in relation to food contact materials and articles. He joined the Food Standards Agency in 2010, and previously held roles within foodborne disease control policy and chemical risk assessment. His academic qualifications include a BSc (hons) in Biochemistry with Medical Biosciences and an MSc in Environmental Technology.

Micro-plastics in the Environment - 10:00-12:00

Presentations

10:00 - Welcome - Denise Goldsmith, John MacLachlan

10:05 - Regulatory Scene Setting: Microplastics and Recycled Plastics - Judy Proctor

10:30 - Exposure Source, from Bottle to Ocean Food Chain - Tamara Galloway

10:55 - Characterising Microplastic Exposure and Effects – Stephanie Wright

11:20 - Round Table - What Do We Do About It? - Todd Gouin (chair), Tamara Galloway, Natalie Welden, Judy Proctor, Stephanie Wright, Caroline Gauchotte-Lindsay

12:00 - Break


Migration from Recycled Food Contact Materials - 13:00-15:00

Presentations

13:00 - Welcome - Sally Beken, Clive Thompson

13:05 - NIAS in Food Contact Materials - Regulatory Scene Setting - Tim Chandler

13:25 - Characterising Exposure - Chemical Analysis & Uncertainties - Claire McKillen

13:50 - Characterising Toxicological Risk - Jason Weeks

14:15 - Round table - Should Recycled Plastics Be Used in FCM? - Nick Cliffe (chair), Claire McKillen, Tim Chandler, Raffi Schieir and Jason Weeks

14:55 - Wrap-up & Close - Sally Beken, John MacLachlan
Q&A
Questions posed by our advocate:
Nelson Kay (You) 01:31 PM
Would it not be an idea to include on labels, the harm plastics cause to marine life - as a Government Warning. And, perhaps the toxicity rating as to attracting carcinogens, when floating in seawater?

Nelson Kay (You) 01:45 PM
Do you conduct tests on plastics recovered from seawater, with especial reference to including as a percentage in virgin resins?
Clive Thompson would like to answer this question live.

Nelson Kay (You) 02:04 PM
It appears that we don't know very much about toxins attached to plastics recycled from seawater. It may be that these recovered resources, may not be suitable for food packaging. Until studies are done, nobody can say if it is worth even attempting to recover marine litter in quantity. Is this an accurate assessment of the state of play?

Nelson Kay (You) 02:26 PM
Is there an ocean capable machine that can sample and analyse plastics at high concentration areas (for example), as to toxicity, then pass on the geodata autonomously?
The panelists bravely attempted to answer these questions in the round. A recording was made with a view to sharing the discourse, but because of the glaring gap in the state of such research, publication will not help accelerate this knowledge. And time is money.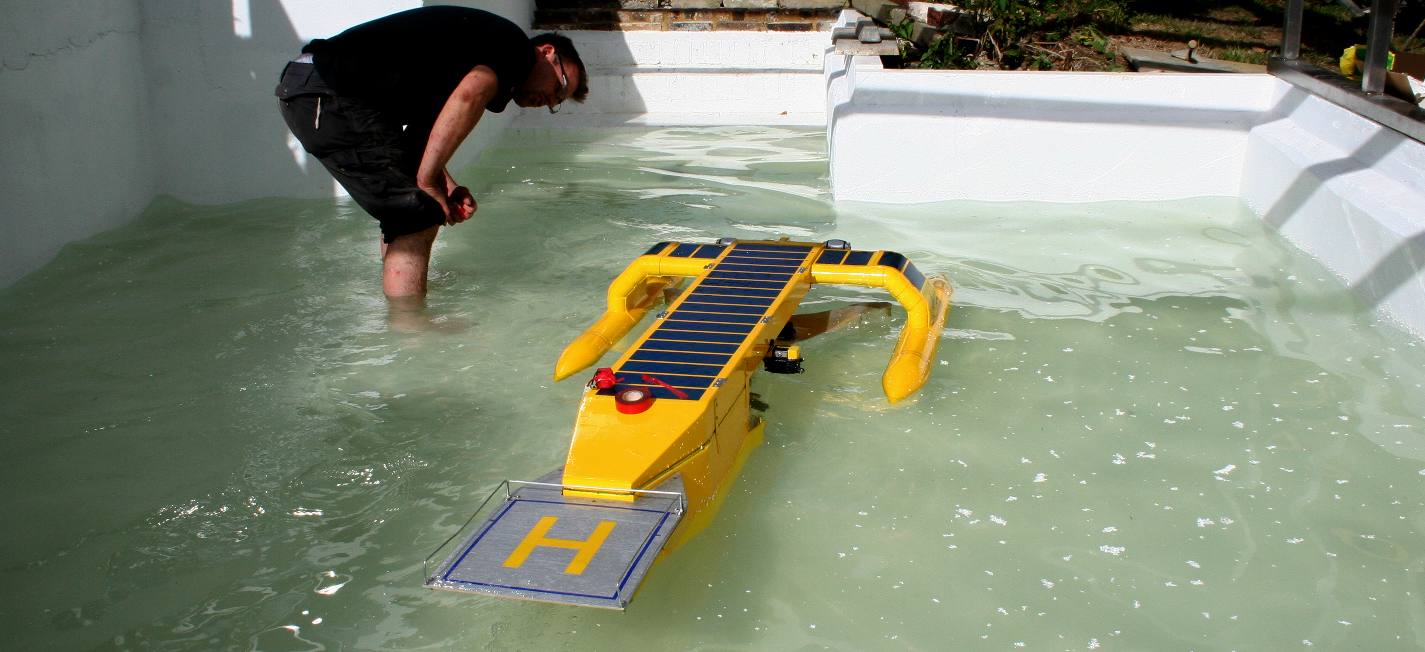 The SeaVax project (above) proved that it was possible to filter plastic from the oceans using a solar powered machine to target micro and macro plastic. Without any real prospect of funding of any sort, the project stalled at the 1:20 scale stage, not going on to full or even half size prototypes. And was eventually cancelled in 2020 as the assembled team of experts disbanded - having mortgages to pay.
Such a machine at RiverVax scale would have been capable of sampling ocean plastics, to determine toxicity levels in macro and micro plastics around shores and in blue water, but was not considered to be new by European assessors of a Horizon2020 call for proposals - even though the technology is still not developed. Who can make head or tail of EU or UK politics for that matter! The fact is they don't fund mavericks like John Harrison anymore.
Cleaner Ocean Foundation advocate a multi pronged attack on plastic, by reduction of disposable packaging and re-design, or outright ban on some items that cannot be effectively recycled. This is in addition to seeking replacements, by way of biodegradable and compostable plastics, etc. Having first been tested for toxicity.

The general consensus is that seafood is becoming more toxic as fauna soak up carcinogens, from ingesting plastics, potentially raising cancer rates in humans and overburdening our already cash strapped health services.
Eventually, it is thought that whaling may have to be re-instated to make up for lost fish protein. Especially, as desertification reduces the available arable land on which to grow crops. A sad situation if it ever comes to that. Then again, we can always eat each other - as is traditional, politicians first.
CONTACTS
...